Container Vegetable Gardening
Container Vegetable Gardening can some times be stressful for us vegetable plants .
We  worry as to whether our gardener will plant us in garden pots with space ...
... Root Space that is !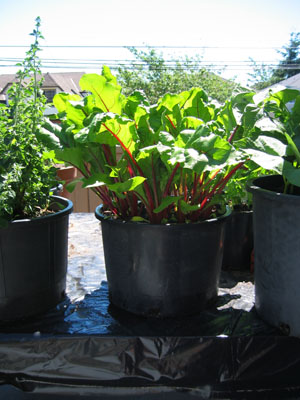 Some of us do great in shallow pots ...
... but need special vegetable plant care and attention.
Most vegetable plants need root space  ...  as much  as possible.
The other special needs of growing vegetables in containers are ...
... potting soil mix, adequate water and food.
Tip for watering container plants  ... if the container is lifted and feels light ... water is needed.

More of our gardener's Container Gardening Tip

Potting soil is for container gardening ...
   ... Garden soil and top soil are just that ! ... Too dense .. poor drainage.


Light fluffy and humus rich potting soil has the ability to hold water
That is correct we want the soil to hold the water not the pot !!

Use a commercial outdoor potting soil mix for growing vegetable plants in pots ...
... Or use a homemade mix in gardening containers.

At the end of the growing season the spent planter soil can be recycled ...
... building up garden soil ...
... the compost pile will benefit from this recycled earth.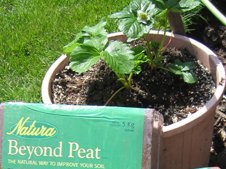 Our Gardener's Potting Soil Recipe is
   Organic Compost                                   2 buckets
   Washed sand                                         1 bucket
   pearlite  / peat moss  / or coconut coir    1 bucket
   Quality garden soil                                  2 buckets
This container gardening potting soil will ...
... retain the right amount of water and provide air pockets.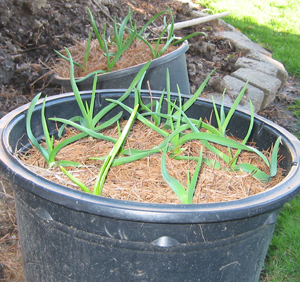 Container Vegetable Gardening & Small Vegetable Garden ... Good Combination !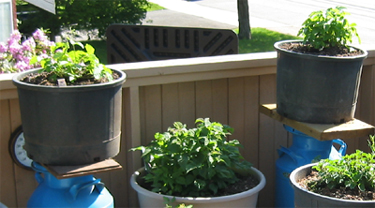 Just starting a vegetable garden ?
What an easy beginning to vegetable gardening ...
 ... especially when small space gardening or  in a balcony garden ...
... Maximize the available area for vegetable garden plants.
Choose vegetable varieties that are suitable for growing in containers.
Seed catalogues usually indicate these vegetable plant varieties.
Growing carrots ... a short stubby carrot ( Paris Market ) 
     does great in our container vegetable garden.
Dwarf beans( Serpedor ) produced plenty last year too.

.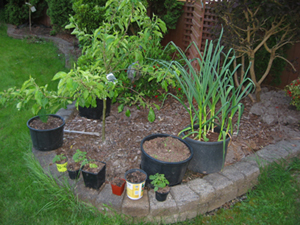 Growing vegetables in containers is like raised bed gardening but ...
... Raised Beds are typically larger ... bottomless ...
... and are more permanent garden structures.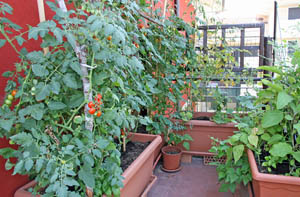 Containers for growing vegetables  vary in size ...
... The soil is held in at the sides as well as the bottom and are often mobile.
Plant boxes and garden pots that are moveable can be positioned in the ideal location of the day.
That is .. where the sun shines  six hours a day minimum.

Vegetable planters can be placed on decks and balconies as well as sidewalks , driveways
and can be put in the backyard garden where there is an appropriate spot for one.
Balcony Gardens ... backyard gardening opportunities do abound on the deck and patio.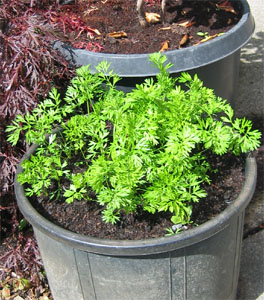 Gardening containers can be many shapes and sizes
... nursery containers
... vegetable planters
... window boxes
... tubs / pots / bins
There are even grow bags that are used as containers
Great on the deck or balcony allowing a greater variety of vegetables to be grown.
Deeper soil means vegetables are happier , healthier and more productive.
Our gardener is growing cucumbers in an olive oil tin ...
... We vegetables think this is like squeezing a size 10 foot into a size 6 shoe !!
Time will tell how this works out ...
... Turned out not good ... Bitter cucumbers ... Stressed !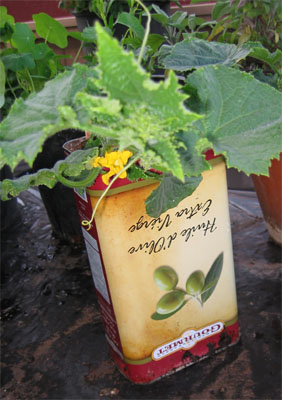 Wow! ... Container vegetable gardening allows for growing potatoes and ...
...  growing tomatoes in a small space garden.
Growing garlic in containers worked great in our backyard ...
... mobile aphid control.
Oases of companion plants growing in containers will attract beneficial insects ...
... Ladybugs and the pollinators ... birds and bees

What other gardening container ideas can you think for growing vegetables in ?
Be creative growing plants in containers indoors and outdoors !
Try growing culinary herbs in garden pots ... a kitchen garden 
... Herb pots growing Horseradish ?

They must be large enough for the roots of the vegetable plant.
No room for root growth ... poor vegetable plant growth and development.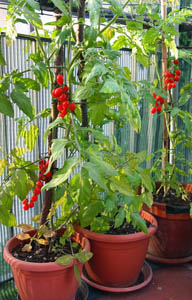 Create Hanging Gardens with vegetables growing in pots ...
... Grow down not up.
Be sure the squash ,cucumbers or other vining vegetables are not too heavy.
The weight may pull the pots over or put too much pressure on the root pulling it away from the pot .
Use a garden trellis , wire or lattice ladder or another vegetable support to help out.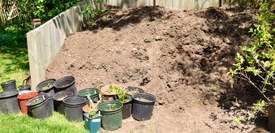 Balcony Gardening,  for our gardener , has always included container vegetable gardening .
By placing good sized planters in strategic locations , amongst other garden plants
he has maximized the available space for growing vegetables by container vegetable gardening.
Miss Something  ?  Go Back to Top of Container Vegetable Gardening Page


More articles about Container Vegetable Gardening that may interest you
Raised Bed Gardens   Fashion or Functional ?

raised bed gardening

›
home vegetable garden
› Container gardening