Some Easy to Grow Vegetables
Easy to Grow Vegetables may differ in the minds of gardeners ...
... but our gardener thinks he has some ringers ...
... Especially when container vegetable gardening or ...
...Growing vegetables in Raised Gardening Beds.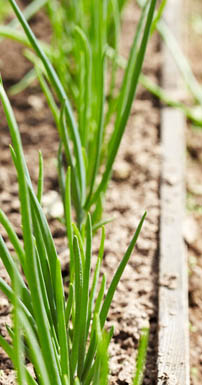 Our Gardener's Top 7 Easy to Grow Vegetables
The Top 7 Easy Vegetables to Grow... according to our gardener ...
... If he grows them ... easy it is !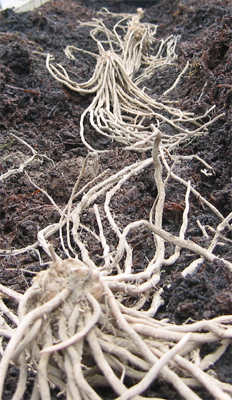 #7    He includes Growing Asparagus in his top 7 easiest vegetables to grow because ...
        ... to grow Asparagus is easy ...
        ... The site preparation is the work ...
        ... But planting asparagus only happens once so ...
        ... do it right and it is good for 20 years.
       Planting asparagus crowns this year will yeild a small asparagus crop next year ...
       ... A full crop the year after.
      Once planted a complete organic fertilizer will be applied mid summer ...
      ... cutting the asparagus ferns after the first frost ...
      ... use the cuttings for winter garden mulch ...
      ... adding more mulch if required for winter protection ...
      ... Easy Peasy !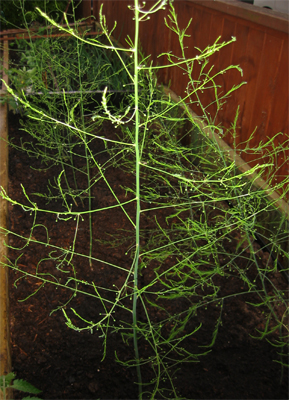 #6     Growing green onions ... simple ...
         ... Green onions started from seed in the fall or early spring ...
         ... once up mulch for winter if needed ...
        ... remove the garden mulch in the spring ...
        ... apply a generous layer of organic compost ...
        ... keep clear of garden weeds ... onions do not like the competition for garden space ...
        ... Succession planting works well for growing green onions ...
        ... A steady supply to be picked.
        Easier yet ... plant onion sets ! An easy to grow vegetable? Yes!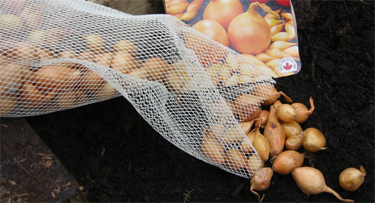 #5      Planting Beets in our raised garden bed in late March means ...
          ... Fresh beet greens ... in our growing zone ... mid April
          ... the growing beets will be ready to pull nice slicing beets early in May.
          Beets are started from seeds
             our gardener says beet seeds are a seed easy to work with ...
          ... They are large enough to see when counting and spacing them.
         Thinning to 3 - 4 inches apart gives them room to grow
          Water ... most important

         Hand weeding is best in small space gardens.
         If the vegetable garden soil is well built ... growing beets ... straight forward ...
          ... another of the easy to grow vegetables.

#4   Growing beans ... bush beans ... easy to grow ... easy to pick
      Growing pole beans is simple too ... garden structures for support needs to be put in place ...
       ... Picking pole beans is a reach ... more work than growing bush beans.
       All beans require a warm soil to germinate ...
      Ours were planted sucessivley Mid May to the end of June.
      Watering is important as well as hand weeding.
      Bush beans get picked in one go ...
     ... pole beans are picked as the mature ... picking stimulates more growing beans.




#3    "Grow potatoes" our gardener says ... and you have a real vegetable garden.
        Planting potatoes mid March to mid April gives the growing potatoes a good head start ...
         ... New potatoes well before they show up at the market.
         Once the seed potato is planted hoeing and banking the potato plants ...
         ... every 2 -3 weeks keeps te base of the plant under the garden soil level ...
         ... While looking after garden weeds ...
         ... banking leads to higher yields of potatoes.
        Growing potatoes in a raised garden bed
        ... keeps the plants well above the soggy ground in our backyard garden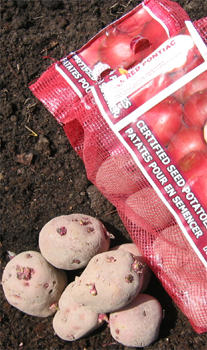 #2    Well drained garden soil with lots of organic compost allows our gardener to ...
       ... Grow Garlic with ease.
       Planting Garlic in late October gives it a head start ...
       Apply garden mulch for protection from winter weather ...
      ... removing it late in February and top dress with lots of organic compost
      Water well once a week until the garlic scapes are clipped ... for eating & cooking
     ... the garlic is pulled 3-4 weekks later and cured
     ... removing garden weeds and an application of a complete organic fertilizer ...
      ... easy work when growing garlic.
      Our gardener is growing garlic in containers this year ...
      ... looking good the garlic scapes will be removed this weekend .. June 7th.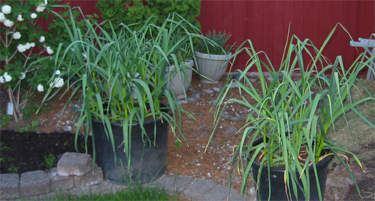 #1     Some of the easiest vegetables to grow are the cool weather vegetables ...
         ... planting spinach and growing lettuce from early spring is easy ...
         ... Spring rain keeps the garden soil moist and these guys thrive in the cool weather.
          Planting Swiss Chard late spring and early summer ... again late summer & early fall ...
         ... provides a continuous ... easy to care for ... supply of garden greens.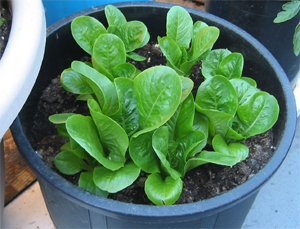 Easy to Grow Vegetables  ... according to our gardener ...
... May differ from the experiences of others.
We vegetables know his enjoyment of vegetable gardening makes for easier growing !
Miss any of these Easy to Grow Vegetables? Return to top of page
raised bed gardening

›
vegetable garden tips
› easiest to grow
More articles about Easy Vegetables to Grow that may interest you
Raised Bed Gardens   Fashion or Functional ?

Your first paragraph ...