Growing Raspberries in Containers
Growing Raspberries in Containers...
... one of the best container gardening ideas our gardener has acted on.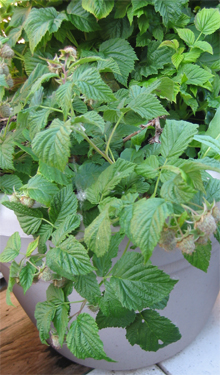 Last year he purchased 2 dwarf raspberry plants ...
... A raspberry plant variety ... with  a compact & high yielding raspberry bush ...
... Planted them in a raised garden beds ... this location was not good ...
... Now he is growing raspberries in containers ...  the size of half barrels ...
The raspberry canes are contained now ... they will not over step their bounds.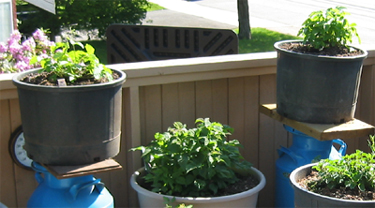 Now he is planting raspberries in containers near the kitchen ...
... Lots of sunshine here and ...
... a quick trip from the bush to the ice creme bowl

... Thornless raspberry plants are ideal in Balcony Gardens.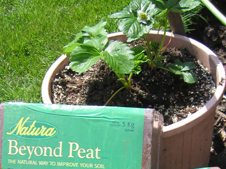 A good potting soil mix when container vegetable gardening ...
... is a must.
Growing berries in Containers requires the same ... container soil.
Potting soil is for container gardening ...

   ... Garden soil and top soil are just that ! ... Too dense .. poor drainage

   Our Gardener's Potting Soil Recipe
   Organic Compost                              2 buckets
   Washed sand                                    1 bucket
   pearlite/peat moss/or coconut coir    1 bucket
   Quality garden soil                             2 buckets

This container gardening potting soil will retain the right amount of water and air ...
... Growing berries in containers like this mix !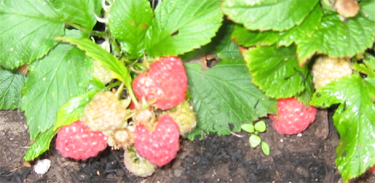 Adequate Water ... Our gardener's #1 Container Gardening Tip !
... Keep this potting soil mix moist ...
... Leaves tuning yellow may mean these berry plant needs a drink ...
... Or ... a feeding of an all purpose organic fertilizer.

We vegetables have seen him treating the container berry plants with ...
... His special orgainic compost mix ...
... of well composted kelp and other organic matter from the sea ...
... they like this treat ... we vegetables do too !
Planting raspberries in garden pots ? ...
... One plant per container.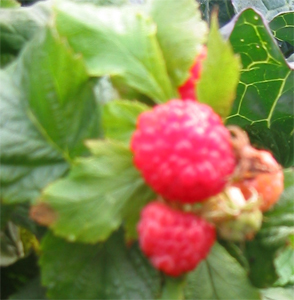 Picking the raspberries fresh .... what great taste.
Harvesting raspberries from our balcony gardens starts early July ...
Last year these everbearing raspberries produced until late October.
Our gardener's favorite raspberry recipes are ...
... Raspberry Bars and Raspberry Jam.




... Growing Raspberries in Containers ...

... Or growing berries in containers, of other varieties ...

... It is the same process ...


Our gardener has strawberries growing in containers ... everbearing strawberries.
He is growing Alpine Strawberries from seed ...
... a late start means a wait until next year for these tasty guys ...
... although he cheated ... purchasing an alpine strawberries plant that produces yellow berries.

Growing Blueberries in containers is also happening in our Patio Garden ...
... a dwarf variety of blueberry plant ... We will see how these grow.

Return to top of Growing Raspberries in Containers page

More articles about Container Vegetable Gardening that may interest you


Our Gardener's top 10 Container Gardening Tips
raised bed gardening

›
home vegetable garden
› container raspberries