Growing Potatoes
Our gardener says vegetable gardens without growing potatoes are not.

In our garden the ROI from growing potatoes can not be beat !

For the past 40 years plus there has always been a spud plant or two or three or more.
He says there is not much in this world better than the crisp sweet flavour of new potatoes.
According to the gardener's wife ...
... his emotional bank account is full when the potato nuggets arrive !
Better than roses!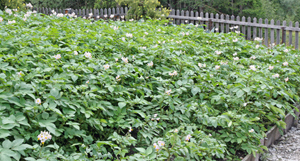 In the last week of December he was at the local garden supply store asking when the seed potato would arrive.
Not until early March he was told.
Pushing it a little ! ... Oh well !
Lots of time to decide which seed potato varieties he will plant .....
....... and where in the vegetable garden he will be planting potatoes.


Choosing seed potato .... same as other vegetable garden seeds .... planting potatoes you like to eat.
Also the same as other garden seeds. plant varieties that are not available at the super market
Be sure they have the qualities you want...harvest timing and ablility to store well.
Where to plant potatoes .....
... Potatoes are one vegetable plant ...
... that needs to be in a different backyard garden spot each year.
Of course if special attention is paid to the current potato patch ...
... rotating some of the soil ...
... adding lots of new compost ...
... and maybe a good green manure cover crop  ...
... a repeat crop of spuds may work well in the same location.
In our new backyard garden growing potatoes will happen in a different raised bed ...
... planting potatoes both in the backyard garden as well as a raised garden bed (burm) in the front yard.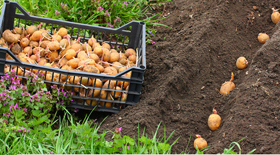 Most types of soil are good for growing potatoes ...
not rocky
soggy locations are not good
slightly acidic soil is good
moderate to plus sunshine


We also heard the gardener say planting potatoes in a grow bag this year might happen.
Grow bags or potato growing kits are a great way for small space gardens to experience the joy of growing potatoes.
On a balcony, yes!
Gro bags are container vegetable gardening gardening.
This potting soil will be put to use for a different vegetable growing crop next year.
Instead of rotating crops rotate the garden soil.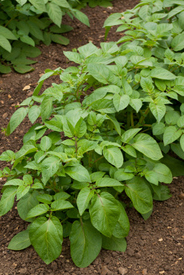 When to plant potatoes ...
First choose the potato variety ...
... early, mid season or main crop
 early potatoes can be planted as soon as the garden soil temp is 7 degrees C ( 41 F ) plus.                       
Potato plants will tolerate a light frost ...
... keep hilling up the garden soil to protect the new growth for frost protection
Get a head start by sprouting or green sprouting seed potato ...
... our gardener has never needed to do this  because of the climate in his growing zone.
If the ground is frozen late or heavy frost is expected sprouting potatoes may help speed things up.

 

How to plant potatoes
Our gardener has always cut the seed potato ...
... Cut in half or quarters being sure there are two or more eyes in each piece
Seed potato golf ball size or less he leaves whole.
In the garden plot he plants in trenches 4 inches deep 1 foot apart ...
... in the raised bed gardening same spacing and depth
If container gardening the container needs to be deep and 15 to 18 inches wide
    
Good drainage is required no matter.
Seed potatoes are best when purchased from the local gardening supply shop.
... They will be guaranteed disease free and will be seed potato varieties that will grow well in the area.
... Seed potatoes saved from last year's crop may or may not grow and yield well and may be prone to disease.

Watering requirements of growing potato plants
... 25mm (1 inch ) of water per week
... same amount of water for growing spuds in containers but spread it out so soil does not dry out.


Prevent growing potatoes from turning green ...
... cultivate and hill or mound with garden soil .... this is a gradual ongoing process
... mulching with clean organic matter ...... straw works great
 
... mulch gradually ... this prevents the greening of the potatoes as well as keeping weeds down and moisture in.
     Green potato is bitter tasting and may make a person unwell.


Harvesting potatoes ..... The great reward !
    When to dig ?
Our gardener plants so he is able to dig and eat the potato crop over the summer.
  
According to him new potatoes are best ..... so he starts digging for nugget potatoes.
Early potato varieties are harvested first ...
... then mid season and main crop.
    The last potatoes are the ones kept for winter use so when the potato plant reaches matutriy ...
... the tops are broken or removed two weeks before digging ...
... This toughens up the skin allowing for better winter storage.


Storing potatoes ...
.... home grown potatoes or store bought need to be stored in a cool, dark and well ventilated location.
.... In farm houses usually the root cellar was under the house for easy winter access.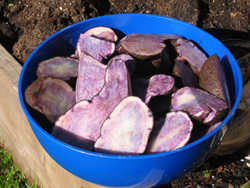 This past season growing potatoes in our yard was a great success.
The potato varieties chosen by the gardener's wife were ... 
... Warba, Chieftain and Russian Banana Fingerling potatoes.
She was very happy with the results of the potato growing effort.
Potatoes are her favorite of the  growing vegetables  in our garden.
Himself thought the yield  should have been better.
40 years ... still growing potatoes ... still adjusting his method !!
Slow learner ?    ........    No it is backyard gardening !
Miss something? Return to top of Growing Potatoes page
raised bed gardening

›
how to grow vegetables
› growing potatoes