Raised Bed Gardens ... Fashion or Function ?




Our gardener says his raised bed gardens Are Functional.
Jack up the vegetable garden soil ... a raised flower bed too.
Raised Bed Gardening

His answer to growing plants in a less than ideal garden site.




Why Would a Gardener Choose Raised Bed Gardens ?


Plain and simple ...
... To overcome a poor plant growing site! ...
... There are numerous marginal backyard garden conditions.
... Poorly drained garden soil ... high water table or low land ... as in our backyard garden
                       
                                               ... clay like compacted types of soil
                 
                              
   Too much drainage           ... gravel or sand letting water pass through.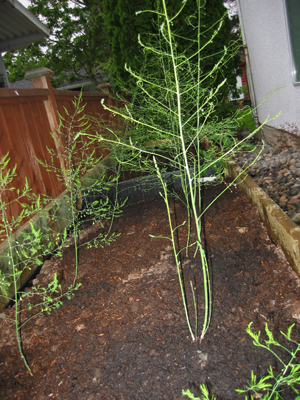 ... Raised garden soil can be built with a personal touch for organic gardening, overcoming ...
                               ... rocky or contaminated garden sites
                               ... soil compaction and hardpan
                               ... absence of topsoil removed by home developer.

... Lengthen the flower and vegetable growing season
                               ... the garden soil is workable earlier in spring
                               ... early warm earth means planting seeds and transplanting sooner.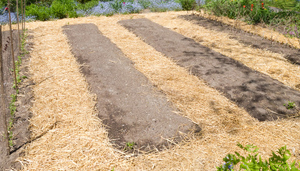 ... Overcome a steep sloped garden site
                               ... how about terracing ! A great look for flowers or vegetables.
                                  
                                  Contained soil at various levels ...
                                 ... so rain and wind does not carry the earth away
                                  
                                  

... Ease of access when elevating the garden to a level of comfort for the gardener ...
                               ... easy gardening with less bending when planting, harvesting and weeding
                               ... the gardener is able to see the water getting to the base of the plants
                               ... walker or wheelchair accessible gardening.
                               ... foot paths between raised beds reduces soil compaction.
Just starting a vegetable garden ?
When choosing a home and where to live ...
... most often the decision is made for more important reasons than vegetable or flower gardening.
So, jacked up garden soil, placed in the prime sunshine location, will make a marginal site ideal.
Growing organic vegetables in year one ... what a reward ! 
Gardening Tip ... Build and prepare the new bed  in the fall ...
                           ... be ready for the soil to warm up in spring ... earlier planting.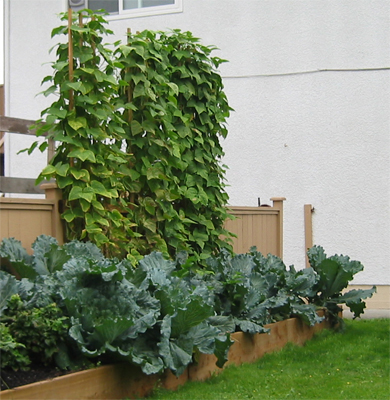 How are these elevated gardens built ?

... As simple as the addition of organic compost and
     mulch added to a garden plot over time raising the soil level.
... elevated growing soil surrounded by a straw bale, wood , stone or masonry border
    retaining the soil.
... Sheet or lasagne gardens placed on existing lawn or un fit soil ... no dig gardening !
... Container gardening ... Yes, containers are like small raised beds with bottoms
        and can be placed in any garden location ... a little guerilla gardening in the backyard.
     Our gardener thinks this is the best of his container gardening ideas ...
                                    ...  Mrs. Gardener not so much.
... Maybe a more complicated garden structures built specifically for raised  gardening.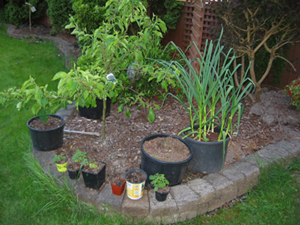 This elevated gardening method might be fashionable ...
... if the gardener desires a fancy high end look.
    Landscaping design and this high way of gardening combined ... 
... can be functional and fashionable ...
                               ... a multilevel garden of flowers,shrubs and vegetables.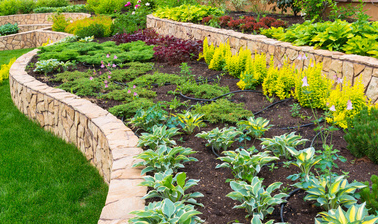 The vegetables, flowers, fruit trees and shrubs in our garden know ...
... the reason their toes are dry and they do not drown.
No lifeguard needed when raised bed gardening !
Miss something about Raised Bed Gardens? Return to top of page.
More Raised Bed and Vegetable Gardening articles
raised bed gardening

›
vegetable garden design
› raised beds fashion or function