Grow Garlic
To grow garlic a gardener does not need acres of land.
Garlic ...
... the stinking rose ...
... thrives in small space gardens or a raised garden bed.

Plant garlic in containers ...
... on a deck or balcony garden.
Just starting a vegetable garden ?
Consider growing garlic ...
... this member of the onion family ...
... garlic .. one of the easiest vegetables to grow !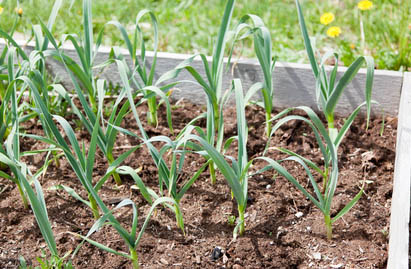 Our gardener decided to grow garlic in containers this year




His decision made ...
... grow garlic out of the box and in Garden Containers.

...  He placed these garden pots in a sunny location.

... The garlic bulbs were purchased ... Russian Hardneck Porcelain Garlic ...
... from the local farmers market.

These garlic bulbs were broken apart and separated ...
... larger cloves of garlic are best for planting ...
... The larger the clove planted ... the larger the garlic bulbs will grow ...
... Smaller cloves are for eating ...
... or planting in rows for an early spring harvest of green onion like garlic ... delicious !
He was seen planting garlic in early November ...
... the garden pots were 18 inches wide .. the same deep ...
... setting garlic cloves at this time means Mulching ...
... Winter gardening means vegetable plants need extra protection from the elements.
Our gardener covered the garden pots with pine mulch ...
... removing it in late February.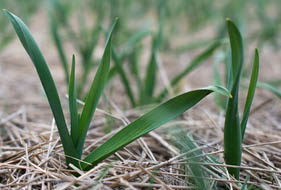 It is now April 30th ...
... The growing garlic looks great !

Himself is waiting for the garlic scapes to form ...
... The central stalk will lengthen forming a pigtail ...
... this loop is the scape and will be clipped, then off to the kitchen they go !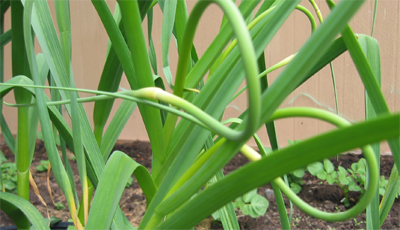 Our Gardener's 6 Steps in Growing Garlic
  Choose healthy garlic bulbs ...
... The size of mature garlic bulbs is relative to the largeness of the cloves planted.
... Our gardener plants garlic varieties that do well in his growing zone ...
... the Pacific North West and southern BC.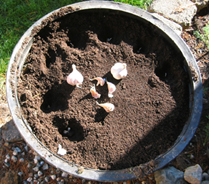 ... in a sunny location ... well drained Garden Soil ...
... Growing garlic in containers or raised garden beds ...
... will guarantee good drainage.
... in northern growing zones mid October to mid November is best ...
... Garlic planting that over winters produces larger garlic bulbs.
Some garlic varieties do well when planted in spring .. in some areas.


... pointy end of garlic clove up .. hairy blunt end down
 
... 50 mm ( 2 inches ) deep ... ... 4 inches apart.
Smaller cloves of garlic can be planted in rows one inch apart ...
... These will produce a spring crop of garlic ...
... like green onions .. these are called green garlic.
Garlic growing can be done other ways   ...
... For the backyard gardener planting garlic cloves is easiest.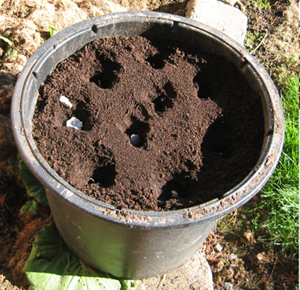 Growing garlic ... keep it simple ...
... protection from the winter elements ... mulching ...
... remove garden mulch in early spring ...
... add a layer of Organic Compost between the plants

... needs regular watering .. especially during dry spells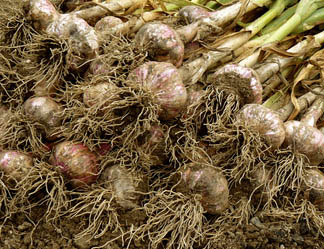 Growing garlic .. the easy part.
Our gardener says knowing when harvesting garlic is best is key !

... garlic scapes are a sign that harvest time is near ...
... these form on hardneck garlic varieties.
... clip the scapes ... they will keep in a zip lock bag for a few weeks.
... after this the garlic bulbs will develop quickly ...
... in three to four weeks ... end of July or so ...
... stop watering the growing garlic ...
...  once the lower leaves start to yellow ... garlic harvest time is near ...
... after 3 or 4 lower leaves yellow and the upper leaves are still green ...
... dig one garlic plant ...
... if the head of garlic is mature and full ...
... skin is still intact ...
... It is now time for the delicate job of digging the plants...
... Be gentle !
... Snip the roots leaving a half inch or so ...
... carefully shake or brush excess garden soil from the garlic bulbs.

Lay the plants out in a shady .. dry .. airy location for two weeks before storing garlic ...
... curing garlic this way prepares this home grown garlic for storage ...
... Garlic storage is best at a low room temperature.


Garlic to spare ... Now he will have to find some good Garlic Recipes !
Grow garlic ... Take advantage of this beneficial plant.



We vegetable plants never see the planting garlic process.
The first we see of these beneficial plants is when our leaves poke through the ground ...
... in spring  and early summer...
... Just the time we need their help deterring some nasty Garden Insects.
The aphids in our garden are getting a healthy whiff of the growing garlic in our garden this year.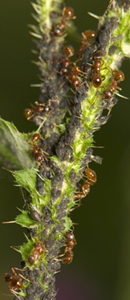 Our gardener decided to grow garlic in containers and place them in the trouble spots.
... Look out Aphids
We will see how it works out ...
... This grow garlic .. organic gardening pest control  ..  approach to Backyard Gardening.
Beneficial plant ... easiest vegetables to grow ...
... although one of us .... a vegetable ..
... great to be included when Growing Culinary Herbs ...
... or Growing Vegetables.

Grow garlic !!

Return to the top of Grow Garlic page
More articles about Gardening Vegetable and Growing Herbs that may interest you

raised bed gardening

›
kitchen herb garden
› garlic