A Kitchen Herb Garden
and Growing Culinary Herbs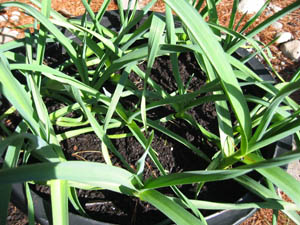 A kitchen herb garden ... Great for the cook ... Good company for us vegetables

Herb gardening and growing culinary herbs gives great return on investment  ...
...  According to our gardener !
Just starting a vegetable garden ?
Try a raised gardening bed close to the kitchen.

Get great gardening value  per square foot ... in the first season ... planting herbs.
Take advantage of that extra nook or cranny when growing herbs ...
... on the balcony or in a small space garden ...
... The return will be well worth the effort
Our gardener says that growing  herbs ...
...  is no more difficult than easy to grow vegetables.
Better yet ... Some herb plants attract  Beneficial Insects ...
... others discourage some unwanted garden pests.
More bang for the buck !!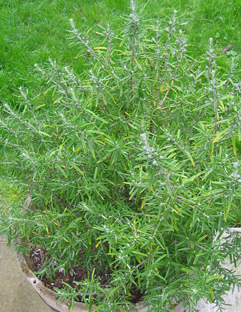 A kitchen herb garden ... the cook will love it !
A kitchen herb garden allows for easy clipping of leaves or flowers ...
... for use in the food being prepared.

Our gardener created a summer herb container garden ...
... on the deck next to the kitchen ...
... Cooking with Herbs made easy.
His perennial herbs are grown in garden pots scattered here and there ...
... in the garden plot ...
... one of the Raised Gardening Beds ...
... even on the driveway ...
... or a little guerilla gardening among her flowers !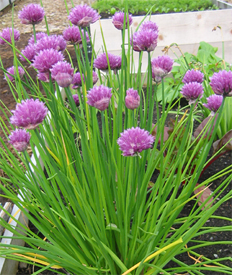 How to grow herbs is no different than How to Grow Vegetables.
... well drained vegetable Garden Soil
... adequate Sunshine ... or shade
... deep well prepared soil with lots of Compost fertilizer.
... lots of root space, especially in herb planters and containers
... feed and water often ... most important when gardening in containers.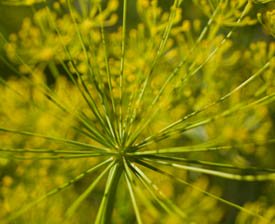 Annual herbs are started from seed ...
... while perennial culinary herbs are best split from the roots of existing herb plants ...
... both will be available ... already started ... at the local gardening supply shop.
We vegetables are familiar with the basic herb garden  ...
... the one our gardener grows consists of the common culinary herbs that his family likes.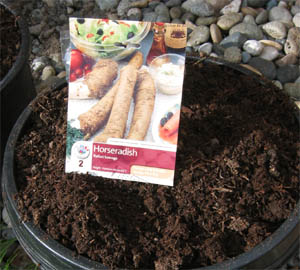 In our deck and balcony gardens his favorite summer herbs include ...
... Basil .. salads and pesto
... Dill  .. dressings, pickles, smoked salmon and cream cheese
... Parsley .. more than a garnish
... Fennel .. fern like leaves and chopped bulb
                    adds anise flavour to salads and fish chowder.
Perennial Herbs  .. The savoury drying herbs .
These culinary herbs keep us vegetables company at ground level ..
... Chives ... egg salad sandwiches /
... Rosemary ... roast lamb / rosemary olive oil
... Greek Oregano .. feta, olives, cabbage, and pita bread
... Sage  .. turkey dressing
... Horseradish ... in the jar with the dill pickles and with roast beast and yorkshire pudding
... Mint ... mint jelly and sauce .. fresh in fruit salad .. or white rum !
... Marjoram .. a recipe replacement for oregano .. a great herb for sausage or meatloaf


How to Dry Herbs ... Our Gardeners' 10 easy steps
The best time for harvesting herbs is before the herb plants flower.

Pruning herbs for drying should be done by mid morning.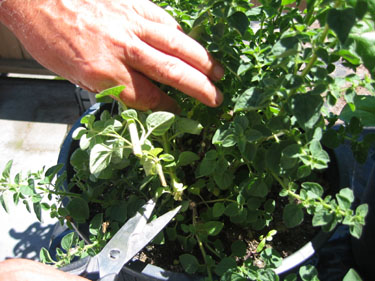 Remove any critters before drying herbs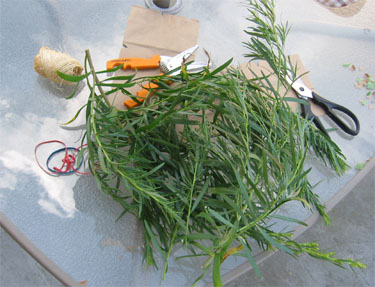 Fasten herb branches at the thick end

Place in a paper bag that has vent holes

Seal the bag with an elastic band
Hang out of the sun ...  where there is ample air circulation.  ( Cool and Dry )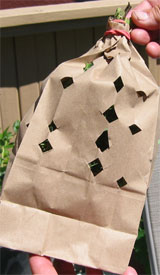 2 to 3 weeks later when the herbs are good and dry strip the leaves from the stems.

Store in air tight jars ... labeled and dated.






Planting Garlic ... Growing Ginger
Vegetable Gardening or Herb Gardening ?
Apparently neither is considered growing culinary herbs.

Our gardener has included both vegetable plants in his kitchen herb garden design ...
... saying he was not into splitting hairs over this issue ...
... We vegetables know he does not have a hair to split !
He will be planting garlic in pots ...
... growing ginger in the container herb garden  this year .. a consideration.

So it goes that growing culinary herbs saves dollars at the market ...
... while the kitchen herb garden provides that little added zest ...
... when cooking and chopping us vegetables for the dinner table ... Ouch !
Growing Culinary Herbs ...
... easy Backyard Gardening  ...
... good gardening value ...
... Plant companions for us vegetables ...
... Companion Gardening and ...
... Organic vegetable gardening at it's best.
Return to top of Kitchen Herb Garden page.
Raised Bed Gardening
› kitchen herb garden




More articles about Herbs that may interest you