Balcony Gardens
Balcony gardens may not provide a harvest filling the larder for winter ...
 ... But home vegetable garden opportunities abound on the deck .. patio .. and balcony ...
... for those budding and experienced gardeners wanting to try small space vegetable gardening.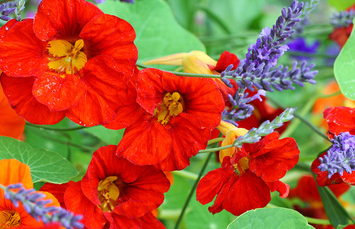 The options for gardening vegetables on  a balcony are many ...
... growing organic vegetables
... edible flowers are ideal
... herb gardening
... growing berries in containers too !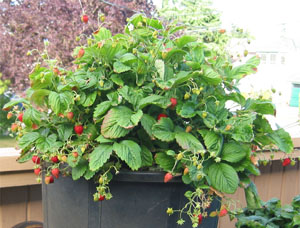 A garden on the 27th floor will differ from a ground level patio garden.
Weather conditions are different up there ...
... Temperature and wind conditions will be more extereme.
A hanging garden will work over a ground level railing ...
...  harvesting vining vegetables from the 27th floor ...
... True vertical gardening !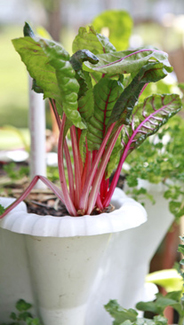 Our gardener has a backyard garden that includes a ...
... Container Vegetable Garden
... Garden plot
... Gardening vegetables in raised bed gardens
...  Balcony gardens too.
His gardening vegetables .. on the deck ..  happens near the kitchen ..
... growing berries in containers
... edible flowers fit in nicely
... growing tomatoes in containers
... and a great kitchen herb garden.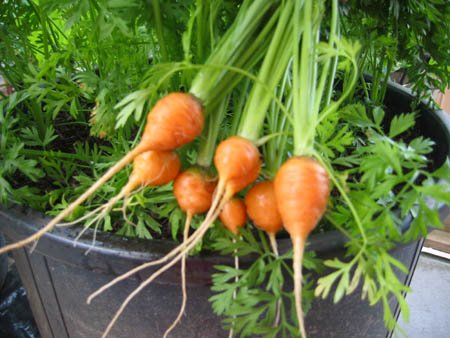 Balcony Gardens ... Ideal and Rewarding for Apartment Dwellers
Container vegetable  gardening on a balcony can be rewarding for apartment dwellers ...
...  with a taste of a fresh harvest.
... Growing Potatoes in bags  ..  New potatoes  .. Great flavour.
... Growing culinary herbs  ..  Fresh mint to cook those potatoes with
... Edible Flowers ..  adding a zip to garden salads
... growing lettuce and other greens great to add the edible flowers to.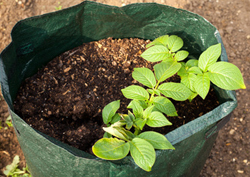 Good gardening principles ...
... and how to grow vegetables remain the same  ...
... in a garden plot ... Raised Bed Gardening ... or in a patio vegetable garden.
Patio vegetable gardening usually means growing vegetables in pots so ...
... container vegetable gardening it is.

This means ...
... Choose a vegetable garden container that is best for the growing vegetables it will hold.
       That is adequate root room  for these potted plants.
... The garden soil mix for container gardening is just that ... a mix ...
       ... not garden soil from out back.
       Our gardener's potting soil recipe for container gardening is ...
           Washed Sand  ..  1 bucket
           perlite / peat moss / or coconut coir  ..  1 bucket
           Quality Garden Soil  .. 2 buckets
       This container garden soil mix will ensure the soil is retaining the moisture ..
       .. not the garden pot !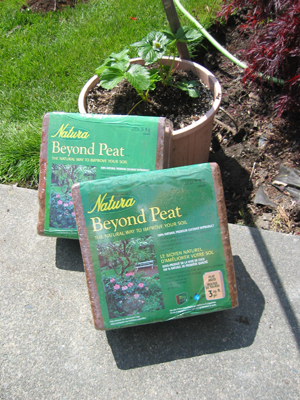 What to grow ?? ... In a patio container garden or ...
... balcony vegetable garden ?
Choose easy to grow vegetables needing little root space ...
... dwarf and bush vegetable varieties do well in containers.
Ask the folks at the local gardening supply shop ...
... a stubby carrot variety .. Paris Market .. was recommended to our gardener ...
... having a shorter tap root apparently makes it ideal for container gardening ...
... We vegetables will be watching this Parisian Carrot !!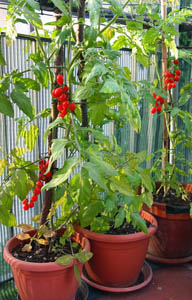 Special attention and care for gardening vegetables on balconys? ...
... The same considerations as container vegetable gardens ...

Adequte water is most important  ..  garden pots at ground level dry quickly ...
... this drying will be more evident on breezy higher balconies ...
... Mulching these growing vegetable will slow the water evaporation.
Growing herbs and vegetablesin pots may need more frequent garden fertilizer applications.
Common Garden Pests may not be an issue for these balcony garden plants ...
... they are growing well abbove the ground level traffic of garden insects ...
    good and bad.
In fact ... Our gardener has beneficial plants growing on the deck ...
... His edible flowers attract  Beneficial Insects and Birds.
    Hummingbirds are welcome guests on the patio.

All in all .. we vegetables that grow in his balcony garden ...
... along with our friends the growing Culinary Herbs ...
... edible flowers and ...
... everbearing strawberries ...
... feel that we are good Companion Plants bringing ...
... added social enjoyment to our gardener's BBQs and family gatherings ...
... held  with us !!
Return to top of Balcony Gardening page


More articles about Gardening Vegetables that may interest you
Growing Vegetables in Containers
raised bed gardening

›
vegetable garden design
› balcony gardens