Companion Gardening
Companion gardening is like a dating service ...
... The gardener is the matchmaker.
Companion planting methods and plant combinations used by our gardener are ...
... based on his experiences.
... Good and Bad .. when gardening vegetables ...
... Plus centuries of companion planting vegetables know how .. learned by others.
They say planting a vegetable garden this way makes for good company!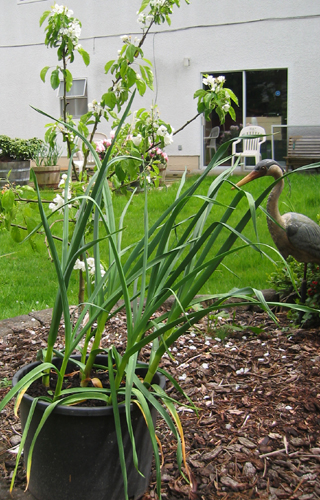 Companion gardening  ...  Is it Science ?  ...  Not really.
                                          Folklore ?  ..  Yes, a goodly amount.
 
Where does the knowledge of Companion Planting Vegetables come from ?
... This know how of plant companions .. and .. plant combinations ...
... has been accumulated .. and passed down through time ...
 
... by the guys on the ground ... who have been gardening vegetables .. gardeners and farmers.
Companion Gardening .. That Works ..  is Common Sense Gardening !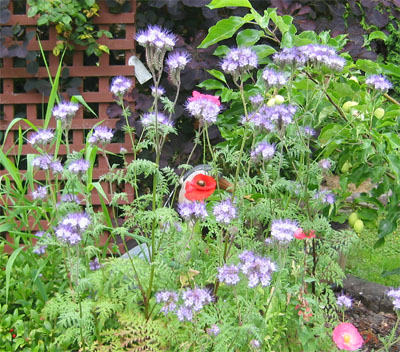 If combinations of growing vegetables, flowers and herb plants ...
...  make for a successful gardening experience ...
... Keep it up ! ... 
... This is companion gardening.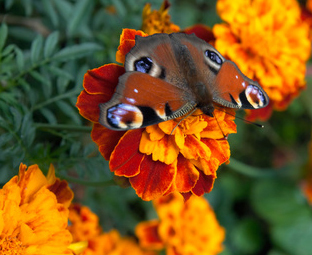 Companion Planting Vegetables ... What do these chums do ?

Our gardener says someone that helps with the heavy lifting is a good companion in the garden !
... Especially digging, moving garden soil and lifting !
He likes companion gardening .. when someone else is working ! for him !


This is exactly what companion plants do ... Help with the vegetable gardening process ...
... Including garden chores.
 Plant companions may not grow in the same season as the vegetable plants they help ...
    ... cover crops ... broad beans
    ... green manure ... fall rye
     ... nitrogen fixers ... legumes and alfalfa
  All are vegetable garden soil builders for future crops ...
... This vegetable garden soil preparation saves our gardener work.
  Earth penetrators and ground breakers ...
    ... deep rooted plants that plow as they go ...
    ... making it easier for other vegetable garden plants to grow downward ...
    ... deep roots draw minerals and nutrients to ground level ... good organic garden fertilizer ...
    ... to the growing vegetables near the surface.
Root vegetables, cabbages and tomatoes have roots that grow down 6 feet or more ...
... interplanting and successive crops of vegetable garden plants will benefit .

          ... prevent vegetable garden pests and disease in future.

  Flowering vegetable garden plants and other garden blossoms attract the Pollinators ...
            ... Bees ... Birds ... Butterflies too
Scarlet runner beans have beautiful red flowers that attract hummingbirds ...
... These beneficial birds will visit and pollinate other plants that are close by.
           ... and a place to build their homes in some vegetable garden plants
 
          Ladybugs ( Ladybirds ) will nest near food they like to eat ... growing dill will attract them.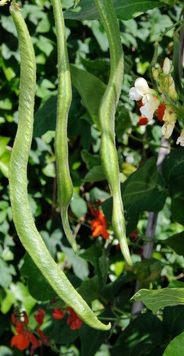 Nitrogen fixing plants are good companions for growing vegetables ...
           ... whether growing with them  .. or before ...
           ... creating great vegetable garden soil.
Pole beans, bush beans and drying beans are nitrogen fixing plants and are ...
... good plant companions to most vegetable garden plants.
           ... ground cover ...

           ... shading the soil helping moisture retention ...
           ... preventing the sunshine reaching weed seeds ...
           ... garden weeds need sunlight to germinate ... fewer unwanted plants.
Growing squash in the same location as corn ... helps retain moisture.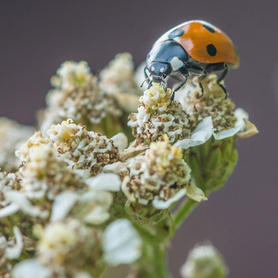 ... provide support vining vegetables and tomato plants.
  Vegetable garden soil building ... companion plants that work ...
  
           ... secreting enzymes that speed up the compoating process.
Yarrow is a flower plant that both attracts beneficial insects and ...
... promotes composting ... home grown organic compost .
  Tall and bushy vegetable garden plants ...
           ... provide mid summer shade ..to non heat heat loving plants .. when vertical gardening.
                     Tomato plants shade growing spinach.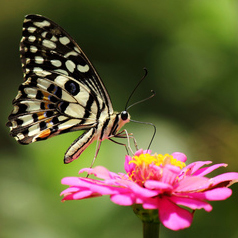 ... may attract beneficial insects ...
             ... or repel vegetable garden pests.
This is the companion gardening most folks are aware of.

Growing garlic .. the stinking rose .. will deter aphids.
  Goodies secreted by some beneficial plants penetrates the vegetable garden soil ...
           ... taking care of some bad nematodes and other underground bad guys.
Marigolds a benificial flower plant to border a raised garden bed or a garden plot.
   Plant combinations can be grown as a target crop ...
           ... drawing specific vegetable garden pests away ... 
           ... away from vulnerable and desirable growing vegetables ... A Trick !
Hard to accomplish in an urban garden or when small space gardening ...
... growing mint or sage as a shield is easier.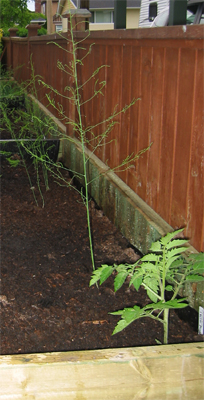 ... Companion Flowers
... Vegetable Companion Plants
... and Companion Herbs ...
... Are they all beneficial plants ?

So what plant combinations of vegetable garden plants ...
... when grown together are a direct benefit to each other ?

Partnering vegetable garden plants so they directly benefit each others ...
... flavour .. yield, strength ..sweetness .. hardiness ... on and on ...
... is where our gardener says companion gardening and planting strays from common sense ...
... There is apparently little scientific data to substantiate ... 
... a lot the claims of plant combination benefits and detriments.
Yes there is a downside to pairing some vegetable garden plants.
He says common sense prevails here as well ...
... growing potatoes near planted tomatoes ... blight is common to both ...
... keep them away from each other.
There are many compilations of beneficial and antagonistic plant combinations ...
... if the gardening information is good and works well for the gardener ...
... there must be something to it.
We growing vegetable appreciate any effort to promote a relaxed and mellow growing environment.
Companion gardening .... We like the company.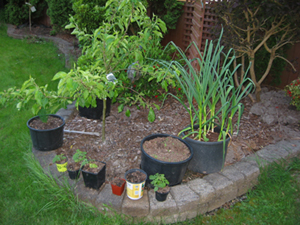 Our gardener has been heard speaking of biodiversity .. A big word for him ! ...
... saying a diverse mixture of vegetable garden plants creates the best plant companions ...
... easy to accomplish gardening vegetables in small vegetable gardens ...
... raised bed gardens .. a vegetable garden plot .. or vegetable container garden.

The opinions and approach to companion gardening may vary when backyard gardening ...
... while the one sure thing is ... organic vegetable gardening it is for sure !


Return to top of Companion Gardening page
raised bed gardening

›
vegetable garden pests
› garden companions


More articles that may interest you


Crop Rotation in a Small Vegetable Garden