Growing Spinach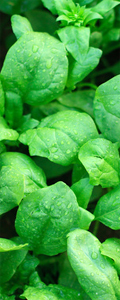 Popeye growing spinach ?
... No he ate canned spinach.
Is it any wonder why eating your greens got a bad rap ?
Not so today !!


Our gardener says backyard gardening and growing spinach go hand in hand.



This cool weather crop is easy to grow ... it must be he can grow it !
The cold hardiness of spinach means ...
... starting seed directly in the garden soil can happen before the last frost.
... over wintering is possible too ... mulching over the growing plants protects them from a big winter
... in the spring uncover and start picking the leaves when the plant growth starts again ...
... a head start in the spring or what !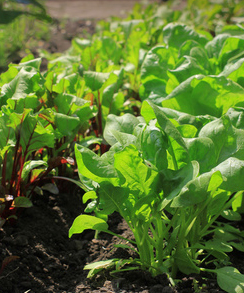 Plant seeds from March until the end of May for spring gardening ...
... fall and winter crops plant from mid August on when fall and winter gardening.
Just because spinach likes cool weather does not mean a sunny spot is not needed ...
... Spinach likes the sun as much as the rest of us vegetables ...
... the spinach just likes cooler garden soil than the rest of us.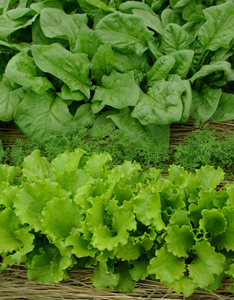 As well as the cool compost soil and sunny location these leafy green guys like a well drained location
and a compost rich garden soil that is slightly acidic.
Spinach has a huge appitite so as well as this ideal garden soil an additional boost may be needed ...
... a helping of an all purpose complete organic fertilizer applied to the rows before seed planting ...
... will satisfy his need for food.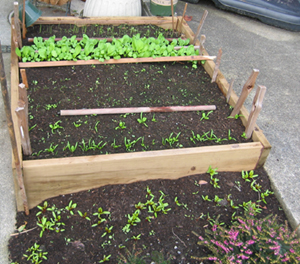 Succession planting ... a short row every two weeks will create a steady spinach supply.
Cool weather discourages most common garden pests from lunching on the spinach plants.
Garden slugs and snails are an exception ... they can make a quick meal of these tender plants.
How does a gardener deal with these slimy creatures ?
Keep the yard clear of clutter ...
... boards, unused containers and any other things slugs will crawl under and call home.
When our gardener was removing a decorative beach stone ground cover ... 
... he found the proof this was a good place for snails to live

When seen in the vegetable patch pick them off ...
... some gardeners use slug traps or copper strips or wire to ward them off ...
... others use organic slug bait.

Varieties of spinach are many ...
... if the seed package says slow to bolt and disease resistant the gardener should be good to go.
As always when in doubt ask ...
... that experienced gardener in the neighbourhood that is good at growing vegetables ... or ...
... the local gardening supply shop will know which seed variety is best for the growing area.
Smooth or savoy leaf spinach ?
Some say the savoy leaf spinach variety tastes best ...
... as always the proof is in the pudding ... the gardener will decide what she likes !
Savoy leaf varieties are more cold hardy
Smooth leaf spinach ... great in spinach salad.
Our gardener will be planting the same variety this year ... Vancouver ...
... named after the city in Washington where it was developed ... great on the rainy coast.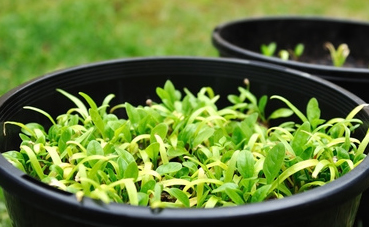 The garden plot, in the raised garden bed or a container vegetable garden growing spinach is easy.
How about in a balcony garden on the cool side of the building ...
... a great location for growing spinach in containers ..  maybe even in mid summer !
Seed to vegetable plant spinach likes structure and routine especially watering.
A sudden change in moisture from lack of irrigation and a little neglect will cause the vegetable plants to bolt.
Bolting is the natural process in growing vegetable plants of going to flower and seed.
When this happens harvest the good leave the crop is finshed ...
... time to plant something else ...
... The rest of us vegetables will miss the green guys but look forward to new companions ...
... That is the way it goes in the backyard garden.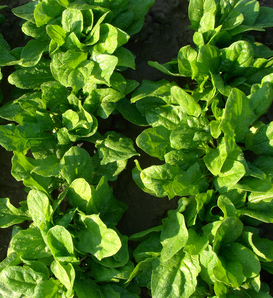 Growing spinach has always been a favorite in our gardeners spring garden.
As the weather heats up she moves on to beet greens and swiss chard ...
... our other garden buddies.
Return to top of Growing Spinach page
raised bed gardening

›
how to grow vegetables
› growing spinach