Growing Swiss Chard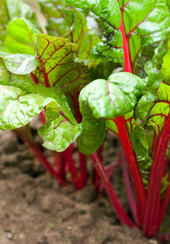 Growing Swiss Chard ... a natural garden vegetable for those beginners just starting a vegetable garden ...
... seasoned pros are into chard as well ...
... easy to grow greens.
Our gardener says growing Swiss Chard is well worth the effort when backyard gardening.
... From the last frost ... until the first ...
...  chard, a relative of the garden beet ...
 ... produces fresh greens as well as mature leaves and stems for cooking.
Swiss chard is one cool weather vegetable crop that does tolerate some summer heat.
When to plant Swiss Chard ...
... as a cool weather vegetable ... as soon as the ground is not frozen and has drained from winter rains ...
... plant through to earl July then again in September.

Like most of us vegetables a sunny location works best for chard.
A loose rich compost soil is prime for this leafy vegetable plant.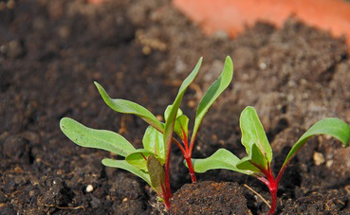 Planting seeds directly in the garden soil is the way our gardener starts growing swiss chard.
Some gardeners start seeds indoors transplanting the seedlings outdoors after the last frost.
Sow these vegetable seeds 3/4 inch deep 3 inches apart
Thin to 6 t0 12 inches apart ....
.... this distance will depend on the harvesting method ....
.... a continuous harvest of the outer leaves allowing new growth to take their place
     or picking the larger plants complete .. the larger plants will need more room.
In his raised bed our gardener uses a more intensive planting ...
... along with succession planting a month apart in the spring then one more planting in late August.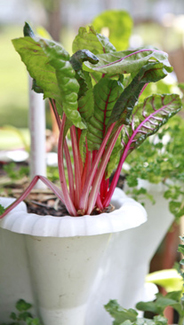 Container Vegetable Gardening  is a good option for growing Swiss Chard ...
... working well in small space gardens and balcony gardens.
A container with a minimum depth of 12 inches is best ...
... proper potting soil mix along with good watering and fertilizing practices are important ...
... when growing vegetables in containers swiss chard included.


Bolting ... the natural vegetable plant process of ...
... going to flower and seed may happen with this leafy green vegetable ...
... as well as some of her friends growing spinach and lettuce.
To dodge this event a bolt resistant vegetable seed variety should be chosen ...
... a constant watering schedule through the hot summer helps slow the need to bolt.
... Mulching the chard plants will help with both moisture retention and temperature control.
We vegetables know bolting to produce seeds to grow next yearis natural for us.
Backyard Gardening is usually for food, so ...

... Gardeners work around this by succession planting ... to guarantee an ongoing harvest ...
... of us an our leafy friends.


Need help deciding on the variety of swiss chard best for the growing area ? ...
... An experieced gardener in the neighbourhood may suggest a variety or ...
... Gardening advice from the local gardening supply shop, folks who will know.

Our gardener planted two Swiss Chard varieties last season ..,
... Pink Flamingo .. an heirloom vegetable variety with smooth leaves ...
... Discovery another pink variety with great cold resitance producing savoy like leaves ...
... He says both Swiss Chard varieties were delicious .... Ouch !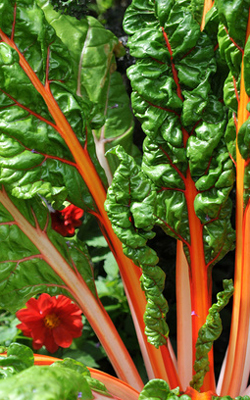 Growing Swiss Chard in Flower Beds
Plant Swiss Chard in flower beds !
... Guerilla gardening in your own backyard !  ...
Find a vacant spot and plant colourful Swiss Chard in the flower bed ...
... colourful ... edible ... space filler !!
Return to top of Growing Swiss Chard page

More articles about Growing Vegetables that may interest you.
raised bed gardening

›
how to grow vegetables
› Swiss chard