Growing Asparagus
A Good Start Pays Off With a Great ROI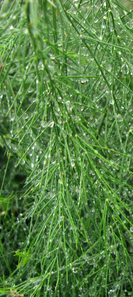 Our gardener asked if there was a secret to growing asparagus.
The best gardening advice given him for asparagus growing ...
... do it the correctly from the beginning.
Asparagus plants are perennial and planted for the long term ...
... twenty years or more ...
... so annual changes in gardening methods are not for this crop !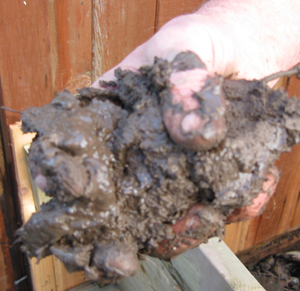 Just starting a vegetable garden in the new backyard he had some basic issues to deal with.
Where will the asparagus garden be located ?
Asparagus plants like a very sunny well drained spot to grow.
The prime location for sunshine was obvious ...
... this spot was soggy with poor drainage ... High ground water especially during late winter and spring.
This meant thinking inside the box ...asparagus beds ... raised garden beds.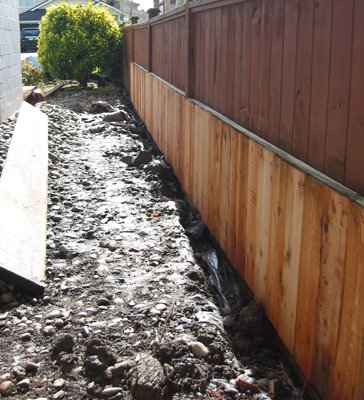 The reality of contained raised bed gardening in this yard was evident ...

... early and late cool weather vegetables as well as perrenial plants like asparagus and rhubarb ...

... keep  their toes dry by jacking up the the garden soil level in raised garden beds.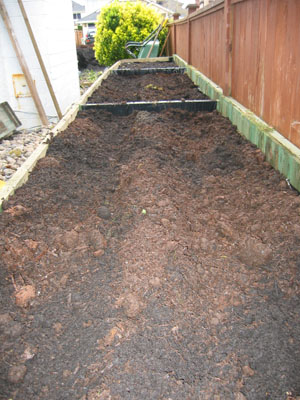 What kind of garden soil mix will fill these raised garden containers ?
Layers of ...
... organic compost / washed sand / premium garden soil mix/ mushroom manure / organic compost  ...
... repeat the layers until full.
This raised garden bed has been built and filled to 24 inches deep ...
... our gardener expects this to settle 3 to 6 inches down.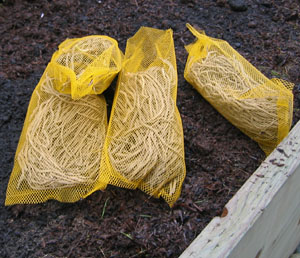 Growing Asparagus ... How To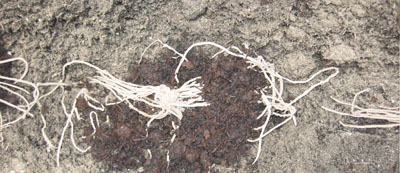 How to plant asparagus ? .... Asparagus seeds or crowns ?
Our gardener was told asparagus seed to asparagus harvest was a process of diligence and patience.
This process is possible and when successful rumour has it that the taste is superior.
The "but" here is it takes a year or two longer before the first pick.
The gardener in our yard decided to plant crowns...
... a hybrid, all boy, disease resistant asparagus variety.
All boy variety ? ... Yes there are male and female asparagus plants ...
... the boys produce spears for us to eat while the girls put more effort into producing flowers and asparagus seeds.

These asparagus crowns were purchased from the local gardening supply shop ...
... coming with great how to grow asparagus tips ... That is asparagus information ... not spears !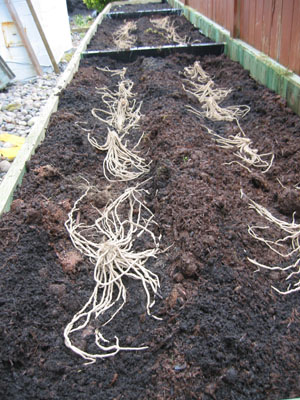 Planting the asparagus in these raised garden beds uses the same principles ...
... as if the crowns were planted in a traditional garden plot

 
... 12 inch trench 6 to 8 inches deep
... spead the roots in the trench
... a mound of soil under the crown will keep the plant higher than the roots
... cover with 2 inches of garden soil and organic compost
... repeat this covering every 2 weeks as the asparagus spears poke through
... after this a light mulch to keep garden weeds at bay.
... at the end of the season cut back the dried asparagus fern and use as a winter mulch.
... multiple rows of asparagus plants in a garden plot should be 3 to 4 feet apart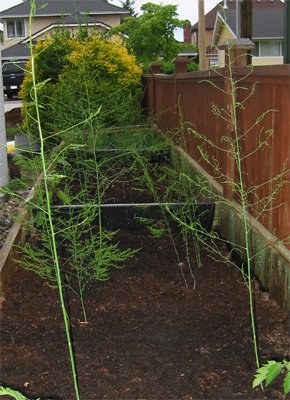 Ahhh !    Those spears arising from the asparagus beds ...
... the temptation to pluck this new growth will be overwhelming !
Do not pick ...
... year one ... not
... year two .. a small bit over a two week period only ...
... year three a full harvest
... after this a 6 to 8 week asparagus harvest.

Because this is a long term affair asparagus plants need time for development ...
... Asparagus picking in years one and two will interfere with the asparagus growing and plant building process.
When Harvesting Asparagus ...Timing is important.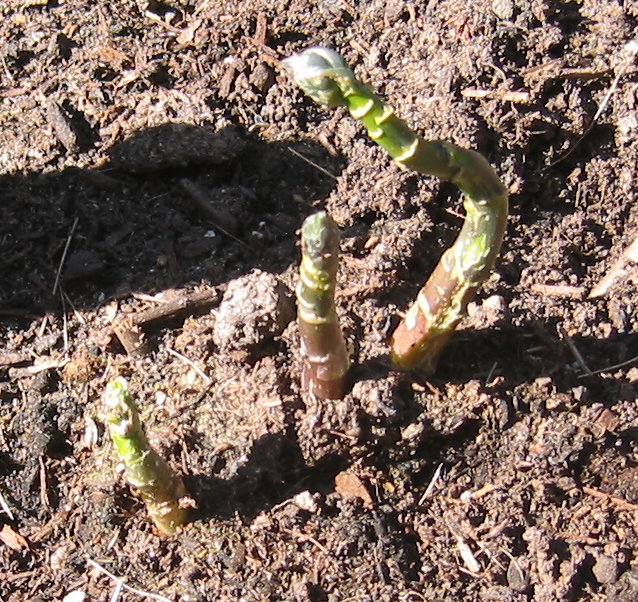 ... spears 6 to 8 inches tall are best
... snap the spear at ground level being careful not to damage what is underground.
... know when to stop the harvest
... next years crop depends on the asparagus fern growth to feed the growing asparagus plants.
... leave the ferns until they die off from multiple frosts
... winter mulching with the yellowed ferns works well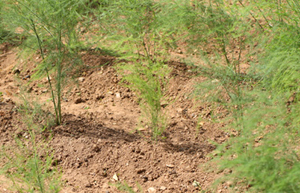 Maintenance of the asparagus beds is easy, so he says ...
... the hard work is done .. creating the raised garden beds.
... a helping of an all purpose organic fertilizer in early spring will give the growing asparagus a boost
... followed by another application after the harvest is complete to help plant and root development
... keep the garden weeds down by hand .. using sharp garden hand tools may damage the delicate root structure.
... light mulching during spring and summer and a heavier mulch over winter will provide plant protection.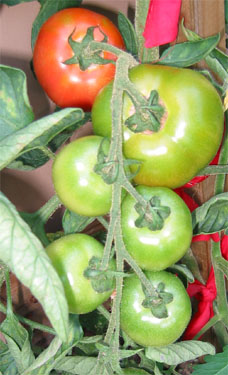 Common garden pests that might be encountered in the asparagus bed are ...
       Garden slugs and snails may have an appitite for the tender shoots and new growth ...
       ... hand picking is best along with an application of organic slug bait.
       Asparagus beetles are a problem in some areas ...
       ... hand pick the eggs before they hatch ...
       If there is an asparagus beetle infestation be sure to destroy the old and dead ferns and stems ...
       ... do not use them for mulch.
Our gardener says that planting tomatoes along side of growing asparagus
       is a good example of companion gardening ... a form of beetle defense.

Most of us vegetables do not get to visit with the growing asparagus ...
...  as the asparagus harvest is complete when we are just sprouts !
We know there the secret to a continual great crop of growing asparagus is ...
... do it right ... from the beginning.
In our yard keep our toes dry ... that is asparagus root  consideration !

The addition of asparagus beds has made the gardener's chef happy.
Among the best asparagus recipes she has are ...
... sautéed asparagus with garlic
... asparagus soup
... pickled asparagus

Fresh picked ... The reward of growing asparagus !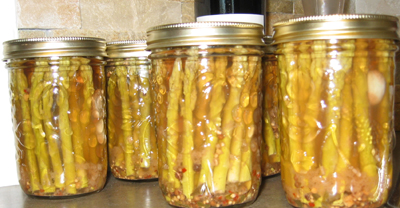 Miss something? Return to the top of Growing Asparagus page?
More articles about Vegetables Our Gardener Grows & Raised Bed Gardening
raised bed gardening

›
how to grow vegetables
› asparagus