Growing Rhubarb
Growing Rhubarb ..
...  Not everybody's favorite but an old standby for a fresh early spring feed from the vegetable garden.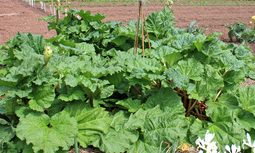 Our Gardener to the rescue ...
... the rhubarb growing our new backyard garden is taking up space ...
... the plan is to dig up the roots .. see if there are any buds on the roots ...
... if the buds look good ...
... these rhubarb roots will be replanted in in a raised garden bed ...
... for rhubarb only.
... No buds ... a trip to the gardening supplies shop ...
... buy rhubarb crowns to plant.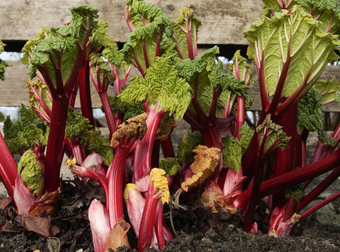 Growing Rhubarb the Right Way
How to grow rhubarb was not in the previous gardener's vocabulary !
Try growing this perennial vegetable when it's toes are in water most of the year ...
... clay like muck for garden soil  ... not good for growing vegetables .. rhubarb included.


Our gardener is starting from scratch ...
... 4 feet X 4 feet contained raised bed garden ...
... the ground under the bed site will be prepared by removing the sod ...
... digging down 12 inches plus as long as he does not strike water ...
... some of the heavy soil will be removed ...
... organic compost will be well mixed with the remaining soil ...
... after the foot deep raised garden bed frame is in place ...
... it will be filled with compost soil and well rotted manure ...
... a depression in the centre of the soil is where the rhubarb crown will be planted ...
... this will be covered with the soil 1.5 inches over the buds ...
... covering all with straw mulch ...
... he is ready  ... is the rhubarb ?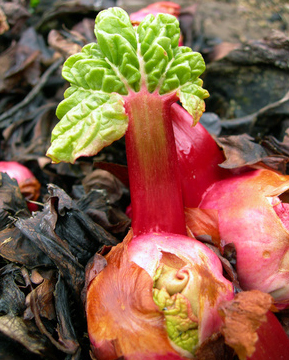 The cheapest source of budding rhubarb root is when a neighbour is splitting older plants.
Every 4 or 5 years rhubarb roots should be pruned by splitting and removing sections of the root.
This will probably be the heirloom rhubarb variety ... same as in our garden now.
Our gardener is also planting a second raised bed with a newer variety ... red, thinner and sweeter stalks.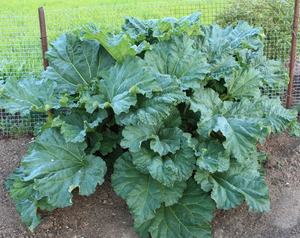 Rhubarb, a cool weather crop likes areas that gets a good frost and a cold winter.
Through spring and summer the plants need to be watered ... mulching will help retain moisture.
Harvesting can happen all at once or over a month or so.
Picking the stalks by pulling from the base or cutting off at the ground.
Straight to the kitchen ! ... Our gardener's wife has some great rhubarb recipes !
The leaves are not edible
Flowering stalks shoud be removed so more growth goes into the roots.
Harvesting should not happen until the second year after planting ... pick a light crop only ...
... Year three for the first full harvest.
Clean up the rhubarb beds in the fall ... cover with manure and mulch ...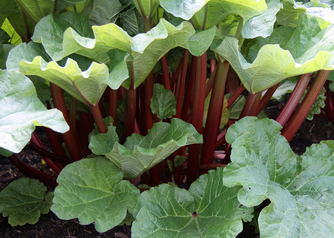 Our gardener has been growing rhubarb for a number of years and says these plants can be forgiving
by producing even under some neglectful backyard gardening circumstances.
We vegetables are curious to see how rhubarb grows in the rhubarb only raised beds.

Miss something about Growing Rhubarb ? Return to top of page
raised bed gardening

›
home vegetable garden
› rhubarb