Ergonomic Garden Tools
Our gardener says " Ergonomic garden tools do not need handles or grips."
Raised bed gardens are his Number 1, of ergonomic gardening tools. Hands Down.
Gardening should be a comfortable activity.

A well thought out vegetable garden design should consider the gardener's physical abilities.
Raised beds built to the ideal height and width ...
... prevents the need to over extend when bending or reaching.
A raised bed vegetable garden design might also
    make for a wheel chair accessible vegetable garden.
Gardening Vegetables for all !
Gardening is in the top 10 of retirement activities ...
... Ergonomic gardening tools ...
... may be the answer for seniors to continue their retirement hobbies for years to come.

Small space gardening is unlikely to cause a muscle repetition injury ...
... the gardener's day job may.
Do all gardeners need ergonomic tools ?
Maybe not specialized hand garden tools ...
... but the right tool for the job ... and the gardener's body ...
... will go a long way in preventing injuries and muscle stress and strain.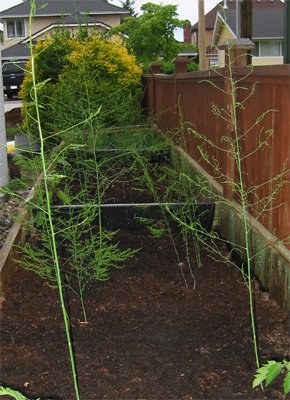 What are Ergonomic Garden Tools ?
An ergonomic tool is the one best suited for the job at hand.
These tools should be a design that ...
... reduces the need for repetitive movements
... grip strength, when using the tool. is minimized.
... in the case of power tools ... vibration transmission should be reduced
... when using a tool, the goal should be for normal body and limb positioning.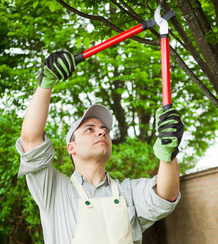 Ergonomic garden tools may be as simple as ...
... A garden tool handle long enough for the task at hand
... Oiled garden shears or clippers reducing work output
... well sharpened axe blades, shovel spades and hoes makes for efficiency ... less work
... Gloves can make a gardener's most important tools ... work efficently ... His Hands!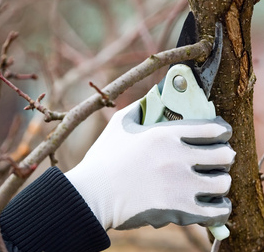 So what are the essential garden tools  ...  that is, ergonomic gardening tools ...
... gardeners should have in their tool shed ??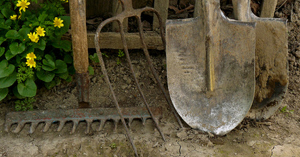 From the perspective of us garden vegetables ...
... handles long enough to reach ... so our gardener's big feet do not cause soil compaction ...
... stepping in the garden might cause plant damage ... Ouch ! ...
... In our opinion his hands are the best ever weeding tools ... gloves help them greatly ...
... as well our roots are not damaged by hand cultivators or garden hoes.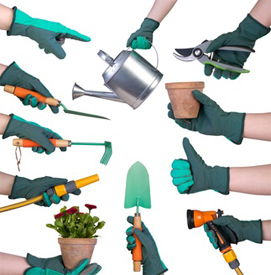 Our gardener had his say ...
... Raised bed gardening creates ...
... a comfortable level for gardening vegetables and ...

... accessibility to a wide range of folks gardening vegetables.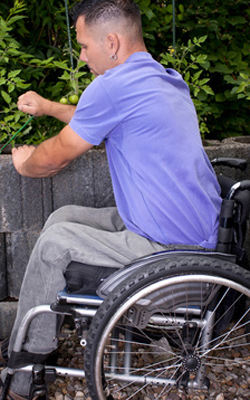 Gardening supply shops make available a wide range of specialized garden tools ...
... A gardener's dilemma might be ...
... which of the array of these ergonomic gardening tools will improve his gardening experience ?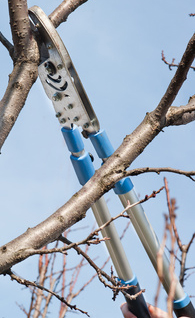 Another of our gardener's thoughts is ... keep it simple ...
... if in doubt about which hand gardening tools are needed ...
... ask the experienced gardener in the neighbourhood ...
... or some one else who gardens with similar limitations.
Return to top of Ergonomic Garden Tools page

More articles about Gardening Hand tools and Gardening Vegetables that may interest you
raised bed gardening

›
vegetable garden tips
› ergonomic garden tools