Essential Garden Tools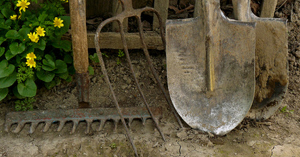 Thinking the words Essential Garden Tools sounds like work.
The correct device for the garden chores at hand lightens the load.
Do they make for easy vegetable gardening?
Our gardener thinks so.
Enjoying working in home vegetable garden also makes it easy and fun.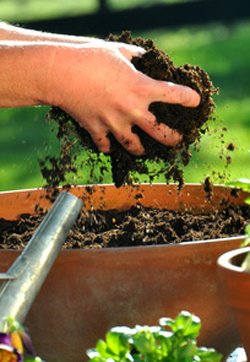 Essential garden tools are hand operated, Of Course.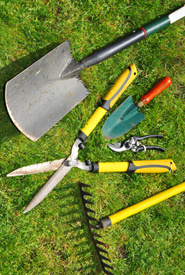 Care of gardening tools .....
..... Sharp implements are efficient
      Axes, machetes, shovels, pruners and garden shears work best when sharp.
..... Cultivating tools and others with handles need special attention.
      Keeping the handle tight in the holding bracket provides for safe and productive use.
      Well oiled wooden handles are easier on the hands.
..... All essential garden tools and equipment need to be cleaned and
       put in the storage shed after use.
The good care of gardening tools and equipment makes our gardeners work easier.
It saves money too.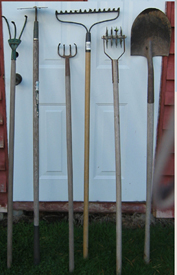 Garden spade and a garden shovels are used for digging garden soil, turning in compost.
     Turning over the vegetable garden soil and breaking up any clods
       work well with these basic garden tools.
 
     The garden fork, a hard working garden hand tool.
     In good soil and compost it will turn and aerate organic matter with ease.

     Garden rake, used for smoothing and leveling garden soil.
     When collecting garden waste raking is very helpful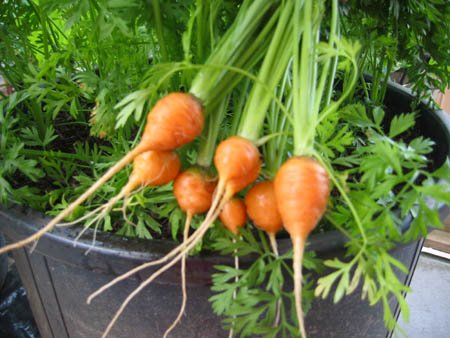 Machetes, pruners and garden shears ...
     ... will help chop prunings and organic garden debris helping it break down quicker.

    Garden hose or watering can
    ... will be needed to moisten compost and soil ... helping with organic matter decomposition.
    Rain barrel and a water wand are also helpful when irrigating by hand.

    Wheelbarrows for movement of garden soil ... mulch ... and organic compost.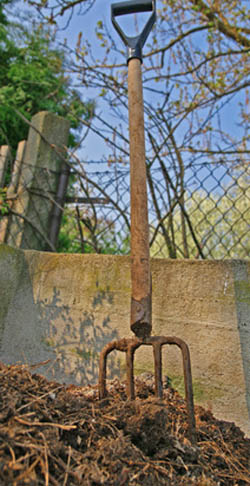 Fertilizer spreaders are useful if your vegetable garden is a good size ...
    ...  allowing evenly spread garden fertilizer ...
         Keep the spreader clean after use and put away out of the weather.

    ... When small space gardening and intensive gardening fertilize by hand.
    An essential garden tool used by our gardener for vegetable plant fertilizing
     is not for this purpose.
    Using a bulb planter he removes a plug of garden soil and replaces it with good fish compost.
    My friends the growing tomato plants rave about this method of treating them.
   Adaption of hand gardening tools. Yes !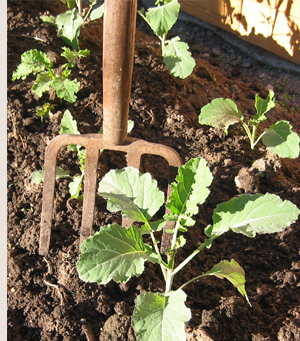 Planting and transplanting delicate vegetable plant seedling ...
... require smaller planting tools including your hands.
    Small trowel and potting fork ...
... will be helpful for transplanting as well as when container gardening.
    Watering can is used to give  the transplanted vegetable plant seedling a drink.
Hand hoe is a good tool for hilling potato plants and organic weed control ...
... When used for weeding the hoe will slice the weeds off close to ground level.
 
Long handled cultivator will work well between the vegetable plant rows ...
... Hand rotary cultivator or claw type work well disturbing our roots little.
   
Hand hoes and cultivators are gardening hand tools ...
... work in the top three inches of the garden soil removing weeds.
    Garden soil is aerated taking garden fertilizer closer to vegetable plant roots ...
    ... allowing water to pass through the soil with ease.
Some of these garden tasks may not be needed
    when raised bed gardening or with intensive planting as
    the vegetable row are close together with garden paths between.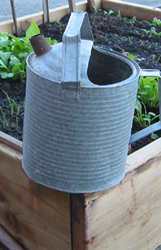 Harvesting a small vegetable garden will make use of some of the same essential garden tools.
    A garden fork is great for harvesting potatoes and other root crops
   Garden shears, trimmers or a good sharp knife are the tools for harvesting garlic scapes ...
    ... cutting vegetables from vining plants ... and harvesting your home grown tomatoes.

   Garden baskets for harvesting the vegetable garden crop is handy.
   If our gardener treats us vegetable plants well he might need a wheelbarrow ...
   ... hauling away the great garden bounty !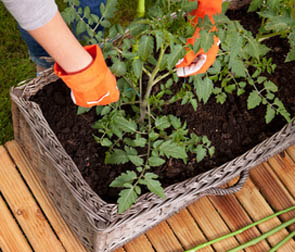 Where does he get his essential garden tools from ?
Some are the same as heirloom seeds ...
... passed down through generations of gardeners.
Over the years the tools came from friends, garage sales, and diy gardening stores.
Other sources are the local gardening supply store or
   an online gardening tools and supplies catalogue.
They will show you what garden tools you might need and much more.

The favorite basic hand gardening tools of our gardener are the shovel, garden rake and hand hoe.
By adapting the use his tools he attempts to keep the garden tool shed reasonable.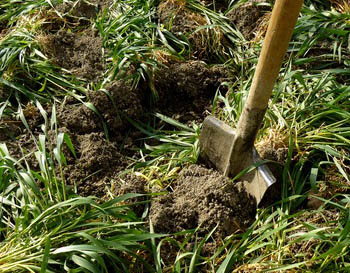 His best backyard gardening advice  .....
.....  keep it simple ......
...... use the basic and essential garden tools that are
        easily accessible or most economical to acquire.
Miss Something ? Return to  top of  Essential GardenTools page
raised bed gardening

›
home vegetable garden
› hand tools