Raised Bed Vegetable Gardening




Jack up the backyard garden level for Raised Bed Vegetable Gardening.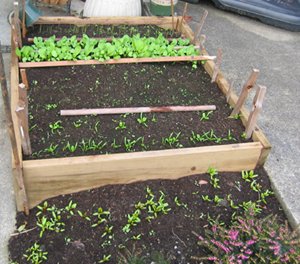 Why raised  bed vegetable gardening ?

Save space when backyard gardening ...
    ... Raised bed vegetable gardening and intensive gardening ...
    ... become partners in small vegetable gardens.


 Poor natural garden soil led to ...
     ... Our gardener creating the perfect garden soil ...
     ... balancing water retention and drainage .


We vegetables love elevated ground ...
      ... it warms up earlier for spring gardening.
      Planting seeds earlier means we get a head start on ground level garden plots.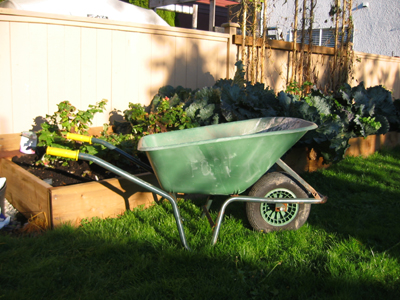 Small space vegetable gardening ...
    ... using these elevated beds is a water conservation exercise.
     More of us growing vegetables in this small space garden
      means less evaporation of moisture        
     Less sprinkling or irrigation is required !
Packed in .. like sardines in a can ..
      ... our leaves provide ground cover protecting it from the direct heat of the sun ..
      ... Little sunlight means fewer Garden Weeds ..
      .. Living Garden Mulch ! 


 Contained garden beds keeps soil in place preventing erosion ..
     .. from the rain and wind.


Garden planning can provide a garden level ...
      ... accessible for those less able to bend their backs.
          A well thought out vegetable garden design means ...

         ... wheel chairs and walkers can move about on the paths around these garden planters ..
 Gardening Vegetables for all !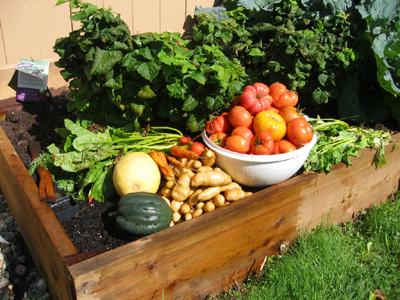 Increasing the garden soil level can be ...  simple ... or ... complicated.
The garden design  and site will dictate this ....
.... considering the vegetable gardener's needs and desires.

Develop vegetable garden plans ...  raised beds or not ...
... to always grow vegetables the gardener's family likes to eat.
Our gardener says ...
... Keep it Simple ... The  enjoyment of gardening vegetables is the priority for him.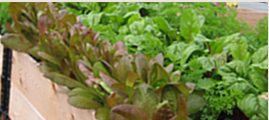 Just starting a vegetable garden or rebuilding an existing garden plot?
There will be a reason for growing vegetables in these non traditional ways.
In fact ...
...  These gardening methods are becoming more the norm in a home vegetable garden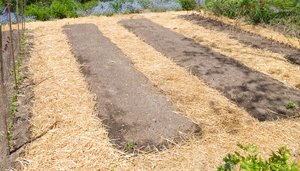 We vegetables know .. when small space vegetable gardening ...
... the gardener has little choice as to the location to start a vegetable garden.
Balcony Gardens may be the only option some have for a small vegetable garden ...
...raised bed vegetable gardening on the deck means ...
... Container Vegetable Gardening ... Little raised beds with bottoms ... Garden Pots !

... Hours of daily sunshine will dictate the spot.
    Considering the shadows cast by surrounding buildings and trees  ..

    .. our gardener picked the best location.
... Will this spot have the best Garden Soil ?  ...  Probably not !
    If yes   ..   the gardener is in business.
... Backyard garden sites with marginal growing soil or none ...
   ... are ideal for elevated gardening methods.
... Importing  garden soil ?   ...  Know what you are importing !
    Best is a homemade potting soil like concoction to go in these raised beds.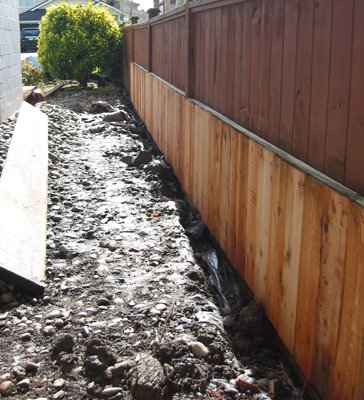 The beds in our yard are 2 to 4 feet wide ...
... and as long as the backyard garden space allows.
Our gardener should be able to work from both sides of the raised bed gardens ...
... eliminating garden paths between vegetable plant rows...
   ... Not walking on the garden soil means little garden soil compaction and ...
   ... more space for us Growing Vegetables.
    ... Not to mention less cultivating
     ... and good water and nutrient absorption.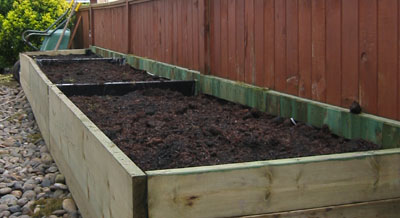 Raised bed vegetable gardening ...
...  combined with intensive gardening methods of gardening vegetables ...
... leads to higher yields in small vegetable gardens.
...  Growing Vegetables .. like us .. love these methods ...
... Happy vegetables  ...  Happy gardener !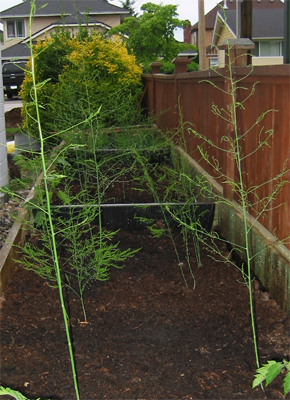 Raised garden beds for growing vegetables ... How are they built ?

A traditional garden plot can be mounded by building and adding to the existing garden soil.
With enough space ...
... the level of the garden soil can be elevated not needing containment.
The raised beds within this garden will be 2 to 4 feet wide the full length of the garden.
A walking path between each bed allows the gardener easy access from either side.
In small space gardens the garden soil is usually contained within a solid frame.
The dimensions of this planter box is the same ...
... 2 to 4 feet wide allowing duel access.
Often these garden structures are 4 X 4 feet.
The depth of the boxed garden structure will be as high as needed
   to achieve good vegetable plant root space.
Growing radishes may seem simple ... Even these vegetable plants need root space !
Starting a vegetable garden like this some say ...
... no dig gardening should be the practice ...
... little disturbance under the area to be enclosed by the frame.
This may work the way these gardeners need.
Our gardener chooses to dig under the space covered by the raised bed.
By the way ...
... his reason for raised bed gardening is high ground water in his yard.
Once he has dug ... the frame is constructed to the height needed.
Higher and deeper if root space is required.
 More height if the gardener does not want to bend over the growing vegetables ...
... Easier on the back!
Removing the soil from the pathways around the beds provides a source of fill for the beds ...
 ... Saves dollars too !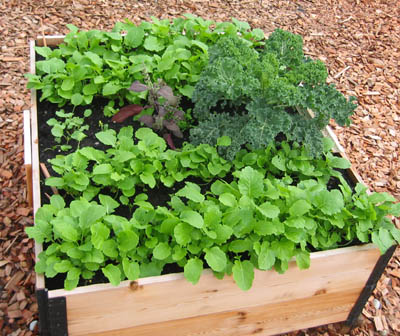 Our gardener tries to use cedar for the frame so the bed is a self contained organic garden.
Using what you have on hand .. for containing the raised garden bed soil .. is most economical.
Wood, stones, bricks and pallets are great ...
... or use your imagination !
Gardening supply vendors have a variety of raised garden bed kits available.
Site and garden soil preparation is still recommended ... before setting up.

Our raised bed vegetable gardening went well this year.

Why does raised bed vegetable gardening appeal to our gardener?
He has been able to avoid the high water table by increasing garden bed height.
Gardening is now possible all year round when raised bed gardening.

We vegetable plants are happier.......healthier........ and more productive !
Miss something? Go back to top of Raised Bed Vegetable Gardening Page


More articles about Raised Garden Beds and Growing Vegetables that may interest you
How to Grow Asparagus in Raised Beds
raised bed gardening

›
vegetable garden design
› raised bed vegetable gardening