Growing Horseradish
Growing horseradish in garden pots ...
... one of the greatest container garden design thoughts ever ...
... for our gardener !

We garden vegetables have heard him say ...
... to grow this perennial root and still have a backyard garden...
... these guys need to be jailed.
That is, contained in herb planters or other garden containers.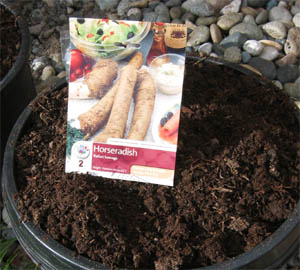 Container Vegetable Gardening .. and ... Growing Horseradish
This may not be in the book but when was the last time our gardener opened the book ?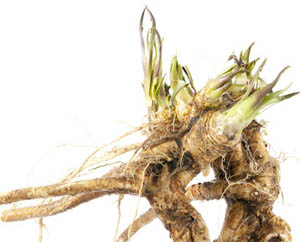 Grow horseradish  in the ground ..
... the root spread will be 12 to 18 inches ...
... growing down 9 to 15 feet !
Depriving the horseradish root  free reign ...
.... will help control it's invasive behaviour.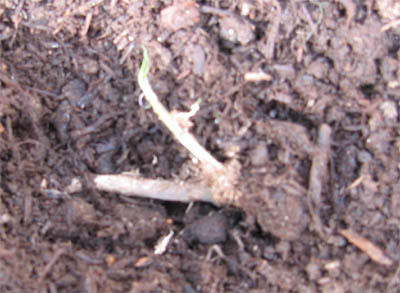 How to Grow Horseradish
... Planting horseradish directly in the garden soil or garden containers ? ...
... the process is the same except for the preparation of the garden soil.


Our gardener purchased a package containing two small roots ...
The horseradish planting instructions on the insert read ...
... does best in full sun
... Plant roots at a slight angle wide portion up ...
... roots 2 feet apart ...
... cover with 1 inch of garden soil ...
Harvest horseradish after one growing season ...
... process only the largest white roots that are free of horseradish crown and roots.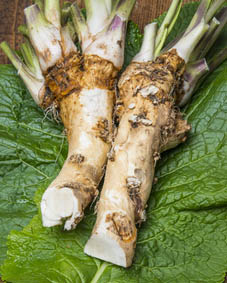 Growing Horseradish ... Plant how much ?
Two plants are more than enough for a family that likes horseradish.
When growing vegetables we know what a serving portion is.
What does the national food guide say a full portion of this vegetable is ?

Horseradish plants need minimal watering ... weekly ...
... Mulching the plants will help retain moisture during the heat of summer.
Digging the root is best after the first good fall frost.
... Harvesting horseradish root from garden containers is the way to go ...
... Our gardener says he is in control ...
... he keeps the main root for the kitchen ...
... saves a few small roots to be replanted ...
... the rest of the plant is discarded ...
... NOT in the compost bin but in the garden waste going for city composting.
The secret to harvesting horseradish growing in the ground ...
... is to not only remove the portion being used but all else posible ...
... our gardener says this is not possible ...
... planting horseradish is like growing mint ...
... you only have to plant these culinary herbs once !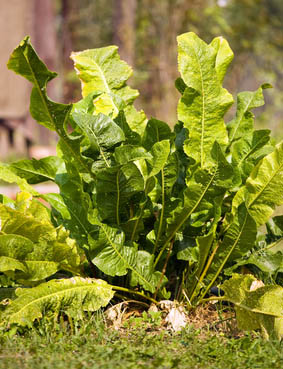 Is horseradish a herb ?
No, it is considered a vegetable ...
... A perennial vegetable at that ...
... Of course horseradish growing in garden containers allows our gardener to decide ...
... how perennial this hot guy will be.
Miss something? Return to top of Growing Horseradish page
More articles about Growing Herbs that may interest you.
raised bed gardening

›
kitchen herb garden
› horseradish