Growing Carrots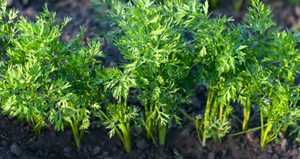 Wow ! ... Growing carrots in our new raised garden bed was the best ever for this
help you see in the dark vegetable ... rabbits' favorite.
These fresh, snappy, orange long fellows will be planted in the raised bed next spring too.
Our gardener says he will be planting carrots of more than one variety ...
... an early and later harvest.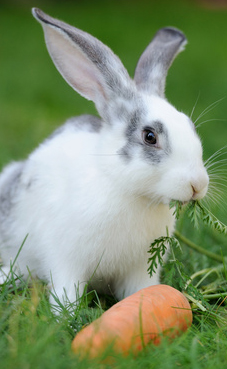 Garden Soil ... The Secret to Growing Carrots
A sunny location where the Garden Soil is ...
...  well drained ... deep ... loose ... rock and obstacle free.
Growing these root vegetable garden plants in compacted heavy soil ...
... or rocky soil
...  a creation of carrots with curious shapes may result.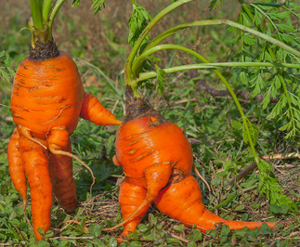 The earth should be moderately warm when planting carrot seeds
Successive plantings will provide for an ongoing harvest of garden fresh carrots.
Planting seeds 1/4 to 1/2 inch deep ... 18 seeds per foot works best.
Most of us vegetables do not have ears like corn but when our gardener comments on the carrot seed size ...
... trying to get 18 seeds per foot  ... most of us blush at the adjectives he uses !
This year he is trying seed tape ... the carrot seeds are pre spaced on tape.
Straight rows ... planting carrots that are evenly spaced !
We will see if the cats can mix these seeds up.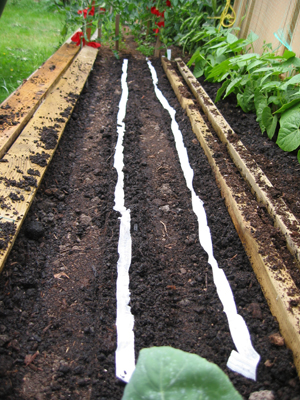 Once germinated and an inch or so high the plants should be thinned ...
... if he put too many seeds in the ground ... thin to about 2 inches apart.
Our gardener's rows of carrot plants were 3 inches apart ...
... He says better to create a high occupancy in the bed ...
... gardening vegetables the intensive gardening  way ...
... that is rows closer together ... foot paths between multiples of rows ...
... no soil compaction ...  carrots like this !
Our gardener ...  the worst of the common garden pests in our garden ...
... when it comes to vegetable garden soil compaction ...
... His big feet !

.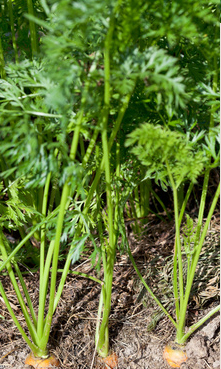 Keep the soil moisture in the carrot patch constant ...
... mulching will help moisture retention ...
... Garden Mulch also prevents the carrots from having green shoulders.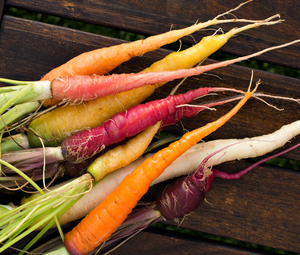 Which carrot variety should a gardener choose ?
There a multitude of carrot seed varieties to choose from !
The best gardening advice is to ask.
The neighbourhood pro or ...
... the folks at the local gardening supply shop will know best considering the gardeners skills  ...
... as well as the backyard gardening soil and conditions.
Last season our gardener chose only one Nantes variety called Flyaway ...
... bred to be resistant to carrot (rust ) fly.

Cooked or raw the flavour was great ... According to himself.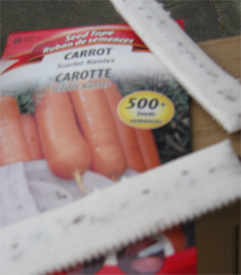 Our gardener will be planting carrots in the Raised Bed Garden ... and containers ... next season ...
... The same orange variety and ...
... some multi coloured carrot varieties too.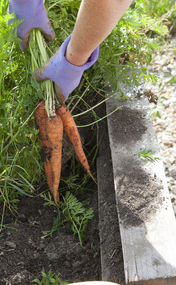 There are carrot varieties that do well when container vegetable gardening.
We expect to see an heirloom vegetable variety of carrot ...
... named Paris Market ...
... growing carrots in pots in the balcony garden.
These carrots are short and plump in stature ...
... needing less leg room but a bit more shoulder space.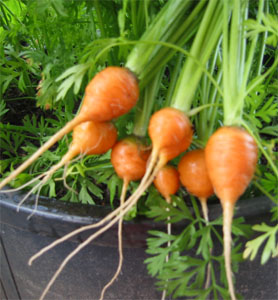 Are carrots good plant companions ?
They certainly are good ground breakers with their long tap root.
Apparently are a benefit to vegetable garden plants like ...
... Tomatoes ... Cabbage... Bush Beans ... and more.
... a way of gardening vegetables ...
...  using plant combinations.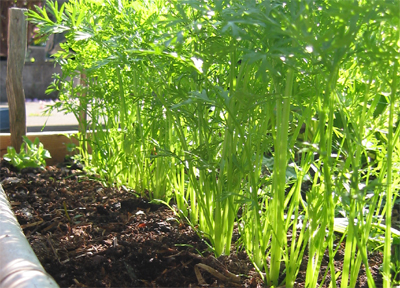 Growing carrots is said to be somewhat difficult ...
Good .. loose ... rich  compost soil  ...
... deep ...
... kept moist ...
... is the biggest part of the secret to growing carrots.
Return to top of Growing Carrots page

More articles about Gardening Vegetables that may interest you.
raised bed gardening

›
how to grow vegetables
› growing carrots