How to Grow Cucumbers
How to grow cucumbers ... according to our gardener ... is easy ... easy to grow too many !

Provide space for growing cucumber plants and thin them ... His best growing cucumber advice.

Time for him to do as he says !!
 Although he does have trouble with the Plant-ricide part of it .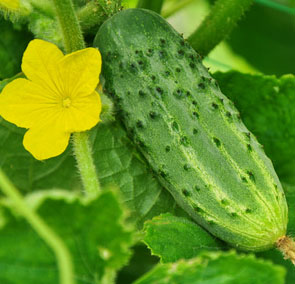 Different cucumber varieties are used when growing indoors and out.
Indoor varieties do not pollinate ... only girl flowers.
If boy flowers get into the indoor mix and the cucumber plants polinate ...
... the result may be awkward or bitter cucumbers.

Cucumber plants growing outdoors have some boy flowers and lots of girl flowers ...
... once the pollinators have done their business ... growing cucumbers aplenty.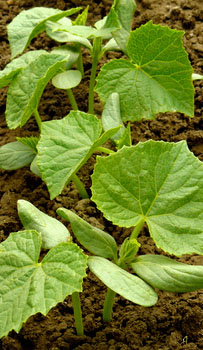 We vegetables have only seen cucumber plants growing outdoors in our backyard garden in ...
... Raised Garden Beds ... Hills of growing cucumbers in the raised garden plot ...

... Himself is growing cucumbers in the container vegetable garden too.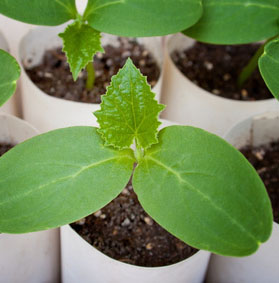 When to Plant ...
... Growing Cucumbers require warm garden soil.

Our gardener gets a head start by seed starting indoors ...
... timing this so the cucumber transplants can be hardened off and planted outdoors ...
... three weeks after the last frost ... end of May or early June.
Hardening off seedlings from started seeds indoors is to aclimatize the cucumber plants ...
... gradually getting them used to outdoor temperatures and real sunshine.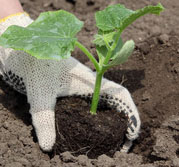 By starting seed directly in the garden soil on the same day a succession plan is started ...

... A steady supply of cucumbers through the summer.

Plant cucumbers in a location with eight good hours of sunshine ...
... during hot dry spells afternoon shade is okay.
Garden soil well built with organic compost is best.
Cucumber plants, the same as most vegetables require well drained soil.
How to Plant Cucumbers is a big part of How to Grow Cucumbers.

Cucumber Transplants ... planted in hills ... 3 cucumber plants ... hills 6 feet apart
                Thin to 1 cucumber plant per hill
            ... planting cucumbers in rows about a foot between plants and 3 feet between rows
                Thin to 3 feet between plants
When thinning leave the strongest looking plant ...
... Snip the stems off at ground level ... leaving the remaining plants undisturbed.
Thinning vegetable plants is what himself calls plant-ricide ...
... often showing mercy and ending up with a jungle of cucumber vines.
How to grow cucumbers ... lots of them !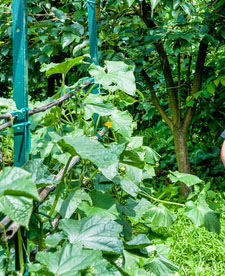 Plant seeds spaced the same 1 inch deep ...Thin the cucumber plants leaving the healthiest.
Bush cucumber plants need much less space ... ideal in a small vegetable garden.

Our gardener says that six inch ridges of garden soil in rows or ...
... or garden soil mounded into hills ...
... is Raised Bed Gardening !
How to grow cucumbers up and not out  ?

A vertical garden ... A cucumber trellis ... great in a small vegetable garden ...
... roots and the base of the cucumber plant can be watered easier ...
... water gets to where it is needed not on the leaves.
The gardener's family is three in number ...
... this year there are five producing cucumber plants ...
... whether for slicing cucumbers or pickling cucumbers he has so many they are being given away.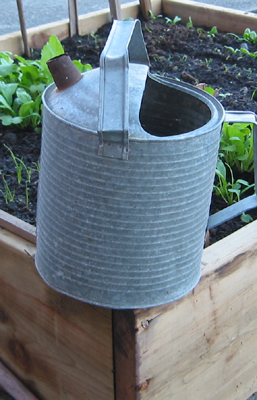 WATER ... may be the single most important part of How to Grow Cucumbers.
Cucumbers are composed of 90% plus of water ... so, the importance of water.
... Water regularly.
... Water deep.
... Water the roots and garden soil not the leaves.
... Water and moisture evaporation can be slowed by mulching.
... Water deprivation may cause Bitter Cucumbers as well as poor growth and yields.
Harvesting cucumbers on a regular basis encourages more growing cucumber.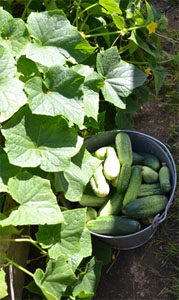 Growing cucumbers in containers ...
... choose a bush or dwarf cucumber variety
... choose a garden pot with ample root room
... adequate water is most important
These last two needs ... if not met ... means bitter cucumbers.

Potting soil is for container gardening ...
   ... Garden soil and top soil are just that ! ... Too dense .. poor drainage
   Our Gardener's Potting Soil Recipe is
   Organic Compost                              2 buckets
   Washed sand                                    1 bucket
   pearlite/peat moss/or coconut coir    1 bucket
   Quality garden soil                            2 buckets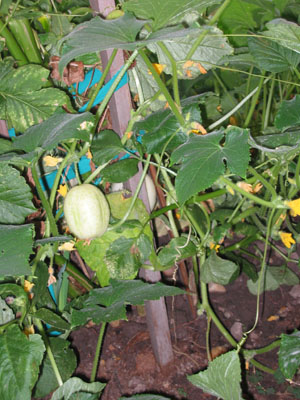 Cucumber varieties are many ... which one to choose ?
... as with all vegetable varieties the ones that taste best are the vegetables to grow ...
... pickling cucumbers or slicing cucumber varieties ...
We vegetables have the same cucumber varieties growing with us this year, except ...
... our gardener planted heirloom seeds this year ... he chose to plant cucumber seeds called Crystal Apple ...
... these cucumber plants are producing a roundish pale yellow/green cucumber ...
... about the size of an apple ...
... Mrs. Gardener says these are excellent slicing cucumbers.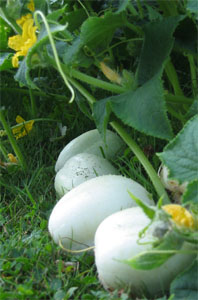 Another good choice from the cucumber varieties avalable would be seeds labeled  disease resistant.


Cucumber problems ... Stress !
... usually caused by .. lack of water
                                  .. poor garden soil
                                  .. transplants too large or root bound


Cucumber pests ... other than his big feet .. have not been a problem in our garden ...
... although other gardeners speak of leaf mould, vine borers and cucumber beetles ...
... we vegetables have seen none of these in our backyard garden.


Why learn how to grow cucumbers ?
Our gardener says, there is not many things better than the crunch and flavor of fresh picked cucumber ...
... in his sandwich .. a little onion .. a little tomato too !!
Return to top of How to Grow Cucumbers page
Other How to Grow Vegetables articles




raised bed gardening

›
how to grow vegetables
› cucumbers