Growing Cabbage
Vegetable Gardeners like growing cabbage

.

Cabbage is a  long season garden vegetable 
..... growing cabbage is easier than most  
..... cool weather is their favorite.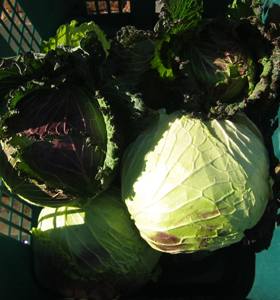 Our gardener planted cabbage in the new raised bed garden.
The last heads were picked January 2nd  ...
...  a good winter garden vegetable plant.



How to Grow Cabbage

Vegetable seeds or transplants ?
... easy to grow from seeds
... start planting seeds indoors late February
... sow direct in the vegetable garden when the tempeature is 45 degrees plus
... trans plant started plants 3 or 4 weeks before the last frost

Seed companies offer cabbage varieties for early and late harvest.
The local gardening supply and plant nursery will have seedlings ready to plant.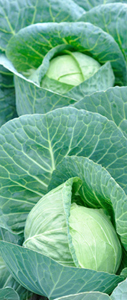 Where to Plant

Be Careful .... Growing vegetables in the cabbage family ....
.... require a different location each year.
.... broccoli, cauliflower, brussels sprouts, and kohlrabi are family members....
Rotate Crops ........ back to the same spot in 3 years.
Cabbage cultivation in a small space garden can be a challenge.
If the crop can not be rotated .... rotate some or all of the garden soil.
A cover crop in this repeat location will help rejuvenate the earth.
Type of Soil best for cabbage plants is    .... well built garden soil
                                                                   .... lots of organic compost
                                                                   .... use an all purpose organic fertilizer
Cabbage is shallow rooted so a raised bed garden does not need to be deep.

How to Plant cabbage ....

.... seeds 1/4 inch deep
.... plant cabbage seedling so soil covers the pot plug
.... sow cabbage seeds or transplants 8 to 16 inches apart
.... rows 12 to 24 inches between
Wider spacing will produce larger heads.


When to Plant
.... seeds indoors late February
.... trans plants a month before last frost
.... direct sow vegetable seeds when the temperature is 48 degrees plus
.... plant into June
.... for a winter garden transplants should be in the ground by mid August.

Because Cabbage is a cool weather crop ....
.... shade is appreciated during the summer heat ...
.... inter planting with some tall fellows ....
.... corn or pole beans will provide some shade.


Water .... Cabbage likes an even moisture supply.
     .... regular watering prevents bolting and splitting heads
     .... mulching helps retain moisture during hot spells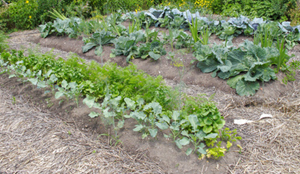 Feeding cabbage plants is easy if the garden soil has been worked and built well ....
..... an all purpose organic fertilizer prior to planting, especially good when intensive planting
..... a spot of tea...compost tea that is .... every couple of weeks
..... if side dressing with compost or garden fertilizer   .....
..... be careful digging or cultivating around cabbage plants .....
..... we cabbages have shallow roots that are easily damaged.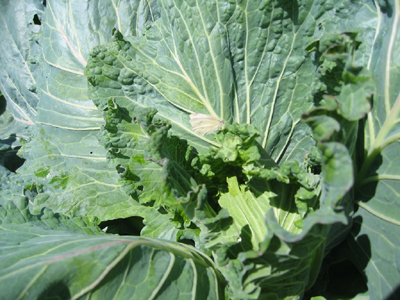 Special Needs for growing cabbage includes ....
.... Crop Rotation .. prevents root disease
.... stem protection from cutworms ...place a ring or coffee cup around the base of new plants
.... garden insects like cabbage worms and cabbage loopers are best hand picked and destroyed ....
.... When the white butterflies start hanging out it may be wise to cover the growing cabbage plants.

Our gardener used a biological insecticide this year ....
.... it apparently upsets the cabbage loopers stomachs ....goodbye cabbage worms .... gone !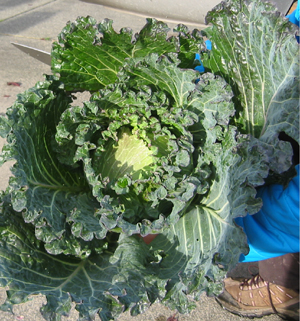 Harvesting is something our gardener keeps simple.
Space out the timing for planting ...
... Select a variety of early and winter crop cabbage plants ...
... fresh heads will be picked from the vegetable garden June until late winter.
A long season of fresh organic green vegetables ... coleslaw ... steamed cabbage ... cabbage rolls ....

.... Is it any wonder that our gardener likes growing cabbage ?
Miss something about Cabbage ? Return to top of page
raised bed gardening

›
how to grow vegetables
› growing cabbage