Vegetable Garden Seeds
After building compost soil ....
.... choice of vegetable garden seeds is a prime step to organic vegetable gardening.


There are

 Two Types of seeds to Choose From..


Heirloom Vegetable Garden Seeds


Origin pre 1930 .... 
        ... vegetable seeds have been passed down through generations.
Heirloom seeds are open pollinated ....
         ... vegetable seeds produced by pollination of the same species of vegetable plant
         ... seeds saved and planted next year will produce the same vegetable plant
         ... vegetables may not be commercially viable .... shapes and sizes may vary ....
         ... harvest not consistent with market needs ...
         ... and different than grocery store vegetable varieties
         ... Heirloom vegetables have superior flavour ....
             .... flavour remembered from the good old days!
         ... heirloom seeds usually are organic vegetable seeds.
Small space gardens may present some difficulties for future planting like
     cross pollination of similar species.
The purchase of heirloom seeds will ensure true heirloom vegetables.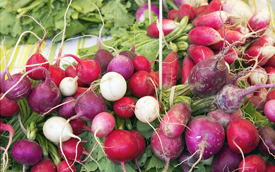 Hybrid Vegetable Garden Seeds
First generation seeds produced by cross pollinating two vegetable plants ....
     ..... of similar species with differing good dominant qualities.
     ..... Human involvement is not required, although helps for good results
     ..... Most often produced using organic vegetable gardening guide lines
     ..... Hybrid vegetable plants will have qualities of both parent plants
     ..... Seeds produced by hybrids are usually not good for planting
These seeds maybe sterile or if they grow produce poorly ...
       ... or take on characteristics of one only of the parent plants.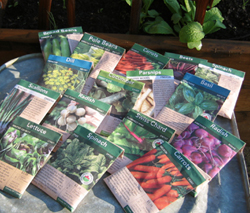 Hybrid seeds are created to ....
.... be disease resistant when growing vegetables
.... produce higher yeilding plants
.... grow consistant shaped vegetables of uniform sizes
.... mature for timely ease of harvesting
.... handle specific climates, geographic areas, and growing conditions
.... desirable qualities for intensive planting in backyard gardens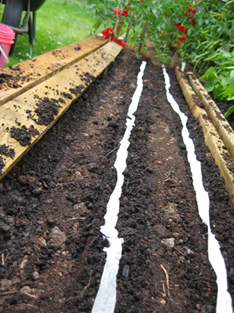 There is a third type of garden seeds.
GEO/GMO these require human manipulation to be created.
These are not open for discussion by our gardener ...
... and will not be available at the local organic gardening supply outlet.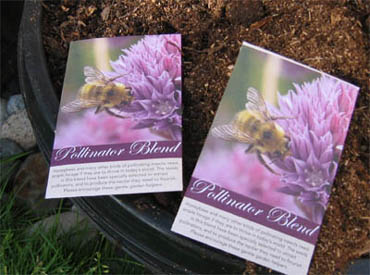 The same vegetable seeds are used in traditional vegetable gardens ....
.... as well as when raised bed gardening or in container vegetable gardens.

The variety of vegetable seeds chosen will depend on the backyard gardening space.
Vegetable garden plans, like the one our gardener does annually, Ha!,
     ...will help maximize the space available.
Interplanting vegetable seed varieties that produce plants that are ...
... smaller .. taller .. early or later harvesters are great choices for the mix.

Although our gardener says heirloom vegetables have superior flavour ...
 
... hybrid vegetable plants can produce great tasting vegetables.

It goes back to the choice of seeds .....
..... choose vegetable species not meant for big agri business and the super market....
..... grow and care for vegetable plants using good organic gardening principles....
..... growing vegetables that are tasty will be the result.

Himself has also been heard espousing his reasons for having vegetable gardens in his yard ...
.... The most important.....
.... he chooses the vegetable garden seeds to grow ..... he eats what he chooses and knows
.... the superior taste of his backyard vegetable garden produce presented on the dinner table.
In fact we vegetables have over heard the gardener's wife comment ...
... on his excitement browsing the local vegetable seed company store.
Like a kid in a candy shop !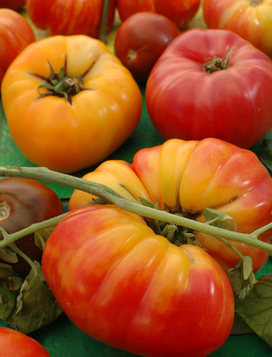 Growing vegetables from seed may not be for all.
If not there will be a local gardening supply shop that will have vegetable seedlings.
These  guys are ready to plant.
Look at the tag for not only planting instructions but for what type of seed this plant grew from .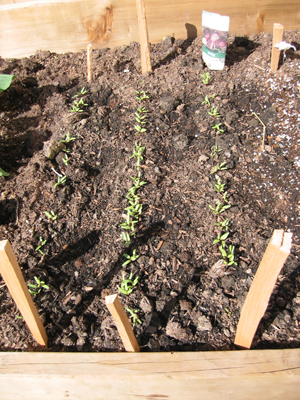 Our gardener's choice of vegetable garden seeds will have it's finale on the dinner table !
The flavour we vegetables have will tell the story of his selection of garden seeds.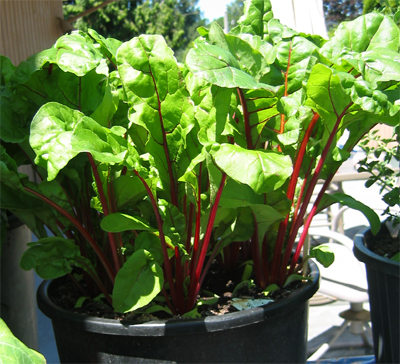 Return to top of Vegetable Garden Seeds page.
raised bed gardening

›
home vegetable garden
› seeds