Garden Weeds
Who are these unwanted plants, the garden weeds?
Garden Weeds ...
... could be considered one of  Mother Nature's methods of garden soil protection.
Pioneering weeds will appear when a vegetable garden plot has been abandoned or neglected.
This natural plant growth ... 
.... provides ground cover protecting the garden earth from being washed or blown away
.... weed roots loosen the soil ... pulling deep soil nutrients to the surface.
.... these unwanted plants feed on these found nutrients ...
       ... growing into plants with leaves and stalks ...
.... when dead this plant matter decomposes ... feeding the soil.

This circle of events will not occur in a well tended garden.

When our gardener relocated ...
... the new backyard garden had been neglected for some time.
The garden weeds were doing their job too well.
He found Dock, Sow Thistle, in the garden plot, dandelions in the lawn ...
... morning glory too ... creeping around the fence.

He was told garden weeds are good indicators of garden soil condition ...
... so he did a little research ...
... his weeds indicated exactly the garden soil condition that he first observed ...
... soil compaction ... poorly drained ... heavy clay like soil ... soil ph ? acidic .

First in his backyard gardening chores came elimination of the nuisance plants ...
... direct digging around each weed removing the deep tap roots ...
... discarded plants are apparently okay for the compost ...
... as long as there are no flowers or weed seeds ...
... ours went to the green yard waste collector.
As per his garden plans the garden plot was raised 6 to 8 inches ...
... forming a raised bed garden ...
... stone work acted as separation from the lawn as well as retaining the soil.
A mix of garden soil and organic compost were used to fill the bed and build the garden soil.
... sand ... topsoil ... mushroom manure

... this plan for raised bed gardening in this location ... solved the drainage issue ...
... as well, the soil types were amended ...
...  with a load of garden soil mix including organic compost ...
... no more mucky clay.
We vegetables grew well in this last summer .... more goodies and depth have been added since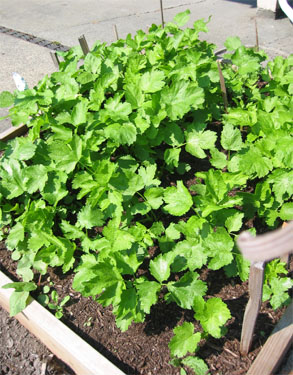 After building the soil weed control is ongoing when gardening vegetables.
There will always be some pesky  weed plant trying to take advantage of the gardener's hard work ...
... growing in the more ideal garden soil ...
... what is good for us vegetable plants works for some garden weeds too !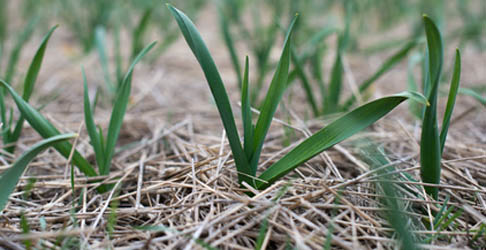 Weed control in our garden ...

Mulch ... ahhh ! ... We vegetables like being mulched ... very, very mulch !
Organic compost  ... grass clippings straw mulch spread out 2 to 4 inches deep around us plants ...
... black poly works too but looks ugly in a back yard garden.

Garden Mulch prevents light from reaching weed seeds ...
... No light ... no weed seed germination.

This mulch should not be too close to our stems ... stem rot ...
... mulching also keeps moisture in and protects the garden soil surface from the wind.

Cultivation ...
...  we vegetables like to think we are cultivated !
... manual cultivation should be shallow only so as not to damage our roots
... use a hand rotary cultivator, garden hoe ...
... or some other weed cutter garden hand tool for weed elimination.
Intensive planting ... cover plants ...  Create a  Living mulch ...
... Growing Squash can provide this live garden mulch.
Contained raised garden beds assist weed control too
   Intensive vegetable gardening ... Yes ! ... combined with a raised garden bed ...
... give weeds no place to grow ... crowd them out.
When it gets down to  the persistent few garden weeds ...
... hand pulling is much easier for our gardener.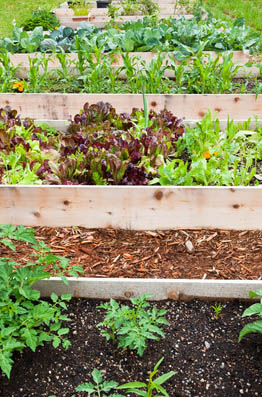 Organic weed control is where it's at ...
... our gardener says use of chemical weed killer should not happen when backyard gardening.
... this stuff in small vegetable gardens and patio vegetable gardens is not needed ...
... it is healthier to live with the nuisance beasts ... for us vegetables too !

So, organic weed killer it is .... garden mulch is the best ...
... discourage the weed seed starting to grow.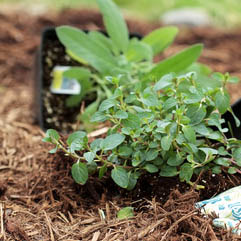 Garden weeds ... unwanted plants growing where they are not welcome ...
... control these weeds in this backyard garden ...
... maybe the neighbour will get the hint and take care of his.
Miss something ? Return to top of Garden Weeds page

Other articles that may be of interest.
raised bed gardening

›
garden pests
› weeds